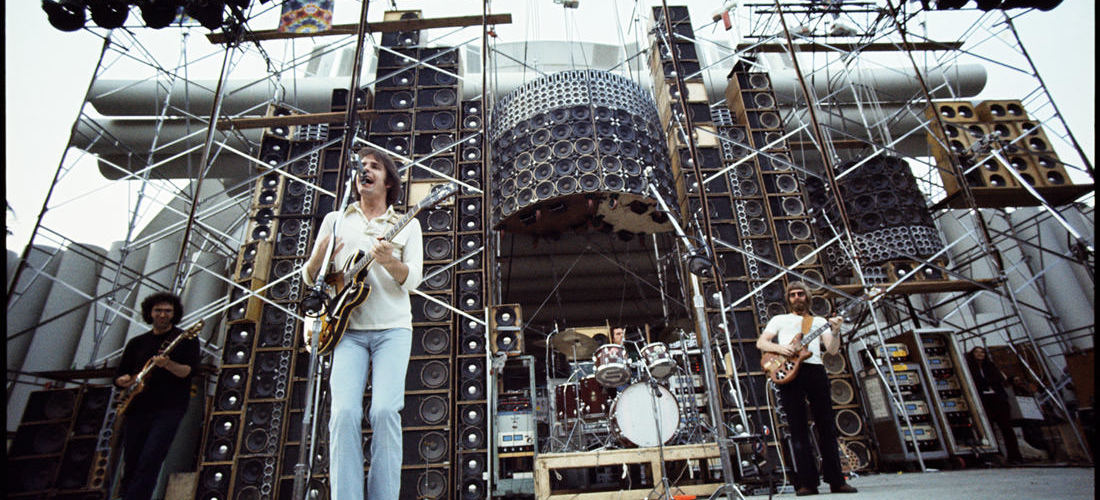 Calling all music and film lovers! The Grateful Dead documentary Long Strange Trip is screening at Red Rocks Amphitheatre this Thursday and we're giving you an exclusive opportunity to win tickets!
The event begins at 6:45pm (doors open at 6:00pm) and will feature live music by a can't-miss Grateful Dead tribute band leading up to this special screening, all taking place in front of the jaw-dropping backdrop of Colorado's Red Rocks Mountains.
Tell us why you deserve TWO FREE TICKETS to see the Grateful Dead documentary, Long Strange Trip, at Red Rocks Amphitheatre this Thursday, May 25th at 6pm! Must enter via SeriesFest Facebook.
Winners will be selected at random and private messaged on Thursday AM with details about how to pick up your tickets at the box office.
For more info about the event, presented by Denver Film Society's Film on the Rocks and SeriesFest, click here.
_______________________________
OFFICIAL RULES

NO PURCHASE NECESSARY TO ENTER OR WIN. A PURCHASE WILL NOT IMPROVE YOUR CHANCES OF WINNING. VOID WHERE PROHIBITED.
This promotion is in no way sponsored, endorsed or administered by, or associated with, Facebook. By participating in this promotion you agree to a complete release of Facebook from any claims.
The SeriesFest Long Strange Trip Ticket Sweepstakes ("Sweepstakes") will begin on Tuesday May 23, 2017 at 2:00 PM PT and end on Wednesday May 24, 2015 at 11:59 PM PT. All times in the Sweepstakes refer to Pacific Time. Odds of winning depend upon the number of eligible Entries (defined below) received. Sweepstakes is subject to all applicable federal, state, local and municipal laws.
ELIGIBILITY: Open only to legal residents of one of the 50 United States or the District of Columbia (excluding Puerto Rico, Guam, the U.S. Virgin Islands and other U.S. territories), and who are eighteen (18) years of age or older at the time of entry and who have a Facebook account in good standing at the time of entry. Employees of SeriesFest 2017, LLC ("Sponsor"), Fanology, LLC (hereinafter, "Administrator"), Netflix, Inc., Greene Advertising, and each of their affiliates (collectively, the "Sweepstakes Entities") and such employees' immediate family members (entrant's spouse, entrant's parents, stepparents, children, stepchildren, brothers, sisters, half-sisters, grandparents and grandchildren) and any household members (whether or not related), are not eligible.
HOW TO ENTER: To enter the Sweepstakes, during the Sweepstakes Period go to SeriesFest's Facebook Page at www.facebook.com/SeriesFest and comment on the Tuesday, May 23, 2017 post that announces the Sweepstakes (such post referred to as the "Post"). If you do not have an account on Facebook, you may create one by following instructions on www.Facebook.com. Creating an account is free. Entry must be received before Wednesday May 24, 2017 at 11:59 PM PT to be eligible for the Sweepstakes. Administrator's computer shall be the official timekeeper for all matters related to the Sweepstakes. Limit one (1) Entry per person. Multiple participants are not permitted to share the same email address or Facebook account. Any attempt by any participant to obtain more than the stated number of entries by using multiple/different email addresses, identities, Facebook accounts, registrations and logins, or any other methods will void that participant's entries and that participant may be disqualified. Use of any automated system to participate is prohibited and will result in disqualification. Sponsor is not responsible for lost, late, incomplete, invalid, unintelligible or misdirected registrations and they will be disqualified. Any attempt at entry except as stated above is void. Entries generated by a script, macro, or other automated means will be disqualified. Entries that are incomplete, garbled, corrupted, or unintelligible for any reason, including, but not limited to, computer or network malfunction or congestion, are void and will not be accepted. In case of a dispute over the identity of an entrant, the authorized account holder of the Facebook account used to enter will be deemed to be the entrant. Authorized account holder is defined as the person who is assigned to a Facebook account by www.Facebook.com. Entry constitutes permission (except where prohibited by law) to use entrant's name, Facebook user name, city, state, likeness, image, and/or voice for purposes of advertising, promotion, and publicity in any and all media now or hereafter known, throughout the world in perpetuity, without additional compensation, notification, permission, or approval.
WINNER SELECTION AND NOTIFICATION: On or about Thursday May 25, 2017, five (5) potential winners (each a "Winner") will be selected in a random drawing conducted by Administrator from all eligible Entries received during the Sweepstakes Period. Administrator will make two (2) attempts to notify Winners via comment on the Post and via private Facebook message. Winners must respond to the private message from Administrator within 24 hours to confirm eligibility. Noncompliance within this time period will result in disqualification, and, at Sponsor's sole discretion an alternate Potential Winner may be selected from the remaining eligible Entries. If a Potential Winner cannot be reached, is found to be ineligible, cannot or does not comply with these Official Rules, or if prize or prize notification is returned as undeliverable, Potential Winner will be disqualified and time permitting, at Sponsor's sole discretion, an Alternate Prize Winner may be selected from among the remaining eligible Entries.
PRIZES: Five (5) prizes will be awarded in this Sweepstakes. Each Winner will receive two (2) tickets to the Long Strange Trip Documentary Screening at Red Rocks Park and Amphitheater in Morrison, Colorado on Thursday May 25, 2015 at 6pm ("Prize Event"). The approximate retail value ("ARV") of the Prize is $30.00. Total ARV for all Prizes is $150.00.
PRIZE CONDITIONS: Prize will be awarded on a first come, first served basis with regard to the actual date of Prize Event. Sponsor reserves the right to substitute a similar Prize of comparable or greater value at its sole discretion. Prize cannot be transferred, substituted or redeemed for cash by Winners. Winners are solely responsible for all applicable federal, state, and local taxes associated with the receipt of Prize. Transportation to and from Prize Event and accommodations are not included. Any other costs, fees, and expenses not explicitly stated herein, are the sole responsibility of the Prize Winner. If required by law, Winners will be issued a 1099 tax form for the actual value of the respective prize and will be required to sign and return to Sponsor within five (5) days of receipt in order to claim his/her prize (if applicable). If a prize or prize notification is returned as unclaimed or undeliverable to a Potential Winner, or if Potential Winner cannot be reached within one (1) calendar day from the first notification attempt, or if Potential Winner fails to return all required documents within the specified time period, or if a Potential Winner is not in compliance with these Official Rules, then such person shall be disqualified and, at Sponsor's sole discretion, an alternate winner may be selected for the prize at issue. The Prize Winner's entry in the Sweepstakes and acceptance of the prize offered constitutes permission (except where prohibited) for the Sponsor to use said Prize Winner's name, photograph, likeness, statements, biographical information, and voice and address (city and state) in all forms of media, in perpetuity, without notice, further permission, or compensation.
CLAIMING PRIZE: Winners must claim Prize in person at Red Rocks Amphitheater Will Call located at 18300 West Alameda Parkway, Morrison, CO 80465 before 6:4pm MT. Winner and Winner's companion must be at least eighteen (18) years old and not a minor in their primary state of residence as of May 23, 2017 and be able to provide proof of the same, in the form of a government-issued photo ID, to Sponsor's representatives when claiming Prize.
CONDITIONS: By submitting an entry, all Entrants and Prize Winners:
Agree to totally and completely release Sponsor and the other Released Entities from any and all liability for any loss, harm, damages, costs or expenses, including without limitation property damages, personal injury and/or death arising out of participating in the Sweepstakes or the acceptance, possession, use or misuse of any prize, and claims based on publicity rights, defamation or invasion of privacy and merchandise delivery, regardless of whether any claim(s) for loss or damage under this paragraph, or knowledge of the facts constituting such claim(s), exist at the time of entrant's entry into the Sweepstakes or arise at any time thereafter;
Acknowledge and agree that Sponsor and the other Released Entities have neither made nor are responsible or liable for any warranty, representation, or guarantee, expressed or implied, oral or written, in fact or in law, relative to any prize, including but not limited to its quality, mechanical condition, or fitness for a particular purpose; and, agree to fully comply with these Official Rules.
Any person attempting to defraud or in any way tamper with the Sweepstakes will be ineligible for the prize and may be prosecuted to the fullest extent of the law. Sponsor reserves the right to modify the rules of the Sweepstakes in any way or at any time.
DISPUTES: All issues and question concerning the construction, validity, interpretation, and enforceability of these Official Rules or the rights and obligations of Entrants and Sponsor in connection with the Sweepstakes shall be governed by and construed in accordance with the law of the State of Colorado without giving effect to any choice of law or conflict of laws rules or provisions. Any legal claims arising from or relating to the Sweepstakes or these Official Rules must be brought in state courts in Denver, Colorado. All descriptive headings of sections and paragraphs are intended solely for convenience, and no provision of this Agreement is to be construed by reference to the heading of any section or paragraph. These Official Rules cannot be modified or amended in any way except in a written document issued in accordance with the law by a duly authorized representative of Sponsor. The invalidity or unenforceability of any provision of these Official Rules shall not affect the validity or enforceability of any other provision. In the event that any provision is determined to be invalid or otherwise unenforceable, or illegal, these Official Rules shall otherwise remain in effect and shall be construed in accordance with the terms as if the invalid or illegal provision were not contained herein.
USE OF INFORMATION: By entering the Sweepstakes, Entrant understands that information is being collected by Sponsor. By entering the Sweepstakes, you grant Sponsor permission to correspond with you via Facebook and e-mail regarding the Sweepstakes and to share your Facebook Profile and any other personally identifiable information with the corresponding Released Entities solely for the purpose of Sweepstakes administration, communication and fulfillment. Sponsor will not sell, rent, transfer or otherwise disclose your personally identifiable information to any third party other than the corresponding Sweepstakes Entities as described herein. To reference the official Fanology Social Privacy Policy, please visit http://www.fanologysocial.com/privacypolicy.
WINNER ANNOUNCEMENT: For the Prize Winner's first name and last initial, available after May 24, 2017 send a request via US mail addressed to: SeriesFest Long Strange Trip Ticket Sweepstakes Winner Request / 5855 Green Valley Circle #202 / Culver City, CA 90230. Requests must be received by June 25, 2017.
ADMINISTRATOR: Fanology, LLC, 5888 Green Valley Circle, Suite 202, Culver City, CA 90230.
SPONSOR: SERIESFEST 2017, LLC, 2510 E COLFAX AVE, DENVER, COLORADO © 2015 Fanology, LLC, 600 Corporate Pointe, Suite 210, Culver City 90230