Inspired by the viral fan fiction, Two Sentence Horror Stories is a fresh and provocative anthology series that explores primal and social fears, filtered through the anxieties of the most connected and racially diverse generation. Despite dizzying advancements in technology, inequality, social progress, and environmental degradation, the things that haunt us are still the same.

The series grew out of creator Vera Miao's love of horror and thriller movies as an art form, unlocking our deepest fears, grappling with contemporary social issues, and featuring characters that reflect the diversity of today's audiences. Each episode is inspired by its own horror story told in two sentences, pulsing with the feeling that what you can't see is scarier than what you can.
Responses by Two Sentence Horror Stories Creator/Director ("MA" and "Guilt Trip") Vera Miao:

On how a Reddit thread inspired a series…
The series really came first out of a lifelong love of horror, which led me to read some of the two sentence horror stories that were posted on a Reddit thread a few years back for pleasure. I loved their creativity. They do so much in such few words. And [I loved] the blending of classic, old-fashioned ghost stories within new virtual communities. They managed to be evocative and open-ended at the same time, and instantly inspired a bunch of stories in my head. One thing led to another, and I pitched an anthology series inspired by the form that would grapple with contemporary social issues and reflect the diversity of today's audiences. The folks at Stage 13 responded to the idea immediately.

On ambition vs. budget, and a crew of superheroes…
Our biggest challenges really boiled down to the distance between our ambitions and our resources. The series is cinematic. It includes car crashes, fight scenes, visual effects, dogs, kids, multiple directors, and constantly changing locations and casts…all on a limited budget, which, among many things, meant we had fewer days to shoot, less tools, and a tight crew. The producers and crew on the series were literally superheroes.

On scouting terrifying locations and real-life jump scares…
We scouted a bunch of abandoned buildings for a couple of episodes. You can shoot in abandoned buildings overseen by the city as film locations for no fee, except a small one for a Film LA monitor. It's a great resource, especially for limited budget horror shoots! Keep in mind, there is no power or water. The location we ended up using for the episode, "SECOND SKIN," was incredible, an abandoned, industrial bus repair depot that ran 2-3 blocks long, all the windows blacked out, intense darkness inside no matter what time of day. Literally, scouting it felt like a horror movie already, especially when our cinematographer, Guy Pooles, and production designer, Susannah Honey, split off from our group to check out a particularly dark wing of office cubicles with their flashlights. When they opened a cabinet, a feral cat leaped out at them! I still laugh thinking about that. We never did find the cat again, but we cleaned up dead pigeon carcasses it left behind even during the shoot.

Some of Miao's favorites from the current era of "peak TV"…
There is so much great television right now! But some all-time favorites are Atlanta, Black Mirror, and the French series, Les Revenants (The Returned). Atlanta is just unmitigated genius all the way around; the writing, the acting, the way it subverts television tropes and traditions, its depth and sense of play. I could spend hours talking about it because I am so inspired by it as a filmmaker and it gives me so much life as a person.

Black Mirror is just such a smart show. Like many shows in this era of "peak TV," it has incredible production value, but what sets it apart is its speculative intelligence. It manages to be so ahead of its time in each episode's vision of the future, yet so grounded and believable that it feels like it could be happening just around the corner. That's what makes it so much scarier. And, to do that over and over again for each stand-alone episode? It's astoundingly creative. I aspire for Two Sentence Horror Stories to approach our stories with as much intelligence and respect for our audience.

One of my favorite subgenres is ghost stories. And while it is arguably a show about zombies, Les Revenants is an eerie and beautiful meditation on grief, loss, and haunting. The patient way it unspools the story of these different people who return from the dead unaware and intact is masterful. It gets you from the top with character, relationship, and emotion, and then builds the creepiness and supernatural implications from that foundation. And that sound design… it's just crazy genius! [It serves as] a great example of how genre can be a sensitive, powerful way to dig into our greatest fears and deepest emotions.

On diversity and new perspectives in entertainment…
I don't know what the future holds, but I do hope that it includes significant progress on the trends towards inclusivity and representation of traditionally marginalized people in front of and behind the camera, and maximizing genre stories with meaningful issues and smart, fresh perspectives. That's the intersection that I hope my work sits at now and into the future!
----------------------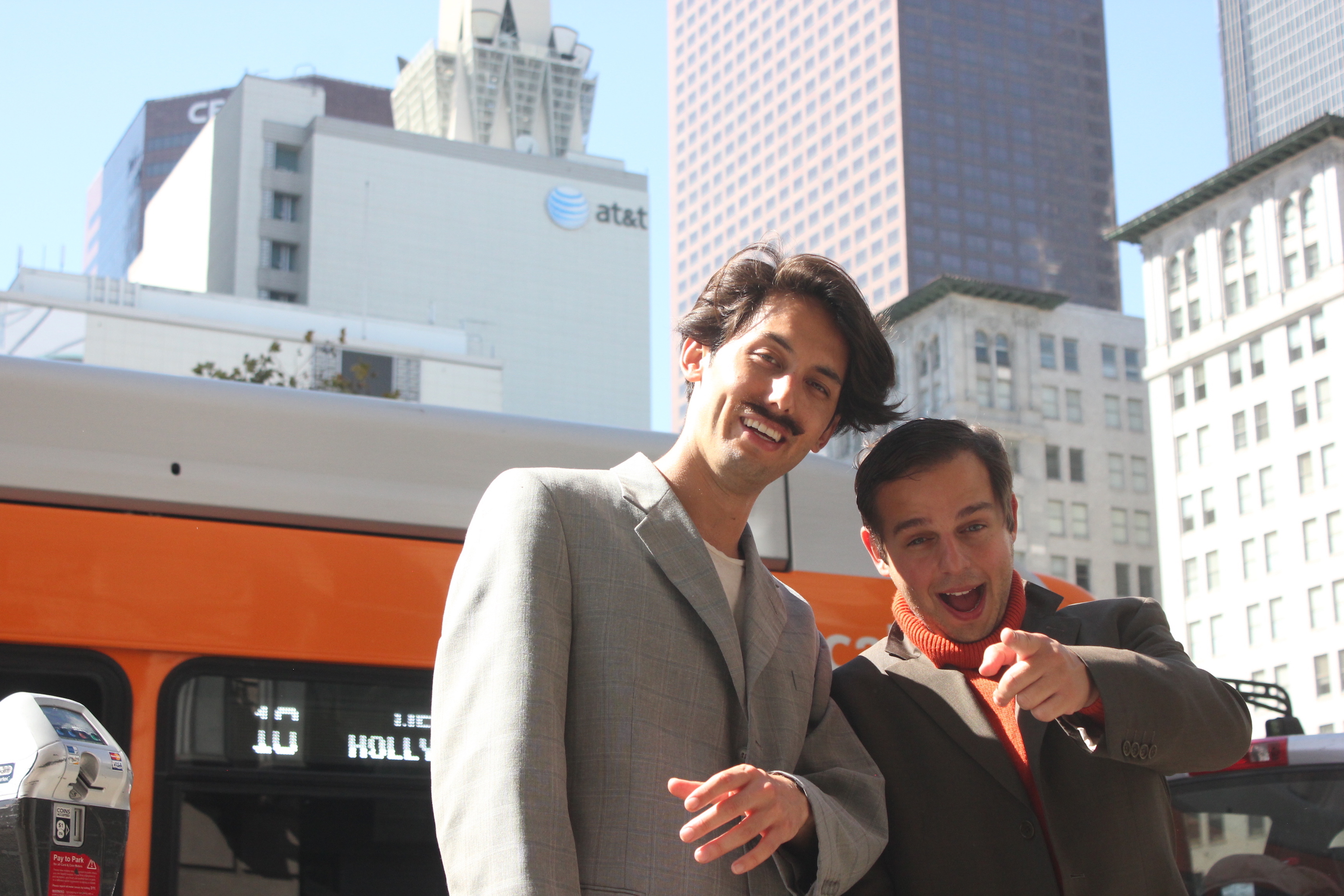 Following the success of their pilot Distance, which took home the Virgin Produced Choice Award at last year's festival, Phil Kaye and Alex Dobrenko return to SeriesFest with an exciting new project. Thanks Laura is a series of comedic sketches about high fives, corporate jargon, and the guys behind every food trend of the last 20 years.
Responses by Thanks Laura Co-Creator Alex Dobrenko

…Going from Brown University to 'goofs' and a sketch idea:
The two of us (Phil and Alex) have been best pals since right after graduating college at Brown University in 2010. We've always enjoyed goofing together and one day thought, "What if we spent a ton of time on these goofs and turned them into scripts and then filmed those scripts?" So we did exactly that - got together over a few days in LA and shot these sketches with a bare bones crew. We're really proud of them and can't wait to make more.
And managing the geographical challenge:
The biggest challenge for us is our long distance creative relationship. Phil lives in New York and Alex lives in Los Angeles, so just like in a real long distance relationship, we have to make a point to Facetime every week and keep the goofs going from afar.
On eyeing a Duplass, Swanberg and others as future collaborators…
We'd love to work with the Duplass Brothers - those guys are making such quality, genuine stuff, and they've cracked the code for how to build a sustainable business model with it as well. The same goes for Joe Swanberg and Louie C.K. - they're breaking the mold and making the stuff they want to make.
On the sketch front, the dream would be to make a sketch with "Key & Peele." Those guys are our heroes. And the same goes with the sketch groups "Britanick" and "Good Neighbor."
…And on their return to SeriesFest:
Well first off, we're super excited to be back at Seriesfest
after bringing our show Distance there last year. We're in the throes of pre-production on the first full season of that show and aim to shoot it in the early part of this summer! Beyond that we're developing a few new series. Some fall more in the realistic dramedy world of "Distance" and a couple are far more on the weirder side of things like our sketches.
---------------------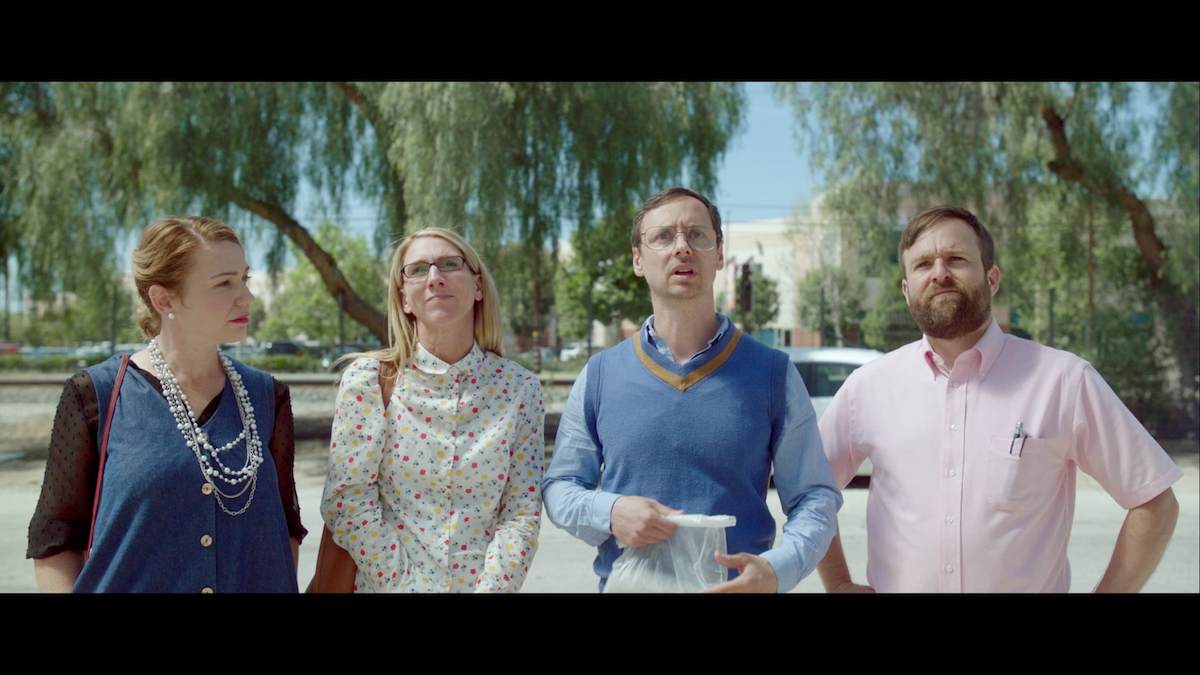 What happens when the most self-obsessed generation in history meets boundaryless parenting? Children who feel entitled to murder their parents. It's a Romeo and Juliet tale… if Romeo and Juliet were total assholes.
Responses by Shit Kids! Creator Kyle Dunnigan
On chewing and money…
I was originally going to make a sketch with friends about people chewing loud, and things got out of hand. I didn't have enough money to make something this long, so I ended up doing too many jobs. I was spread very thin.

On actors and leaf blowers:
The four adults in Shit Kids! were friends of mine. I also had a casting director who sent me about ten audition tapes for the kids. I had three days to shoot 21 pages. There was a constant battle with leaf blowers. Every minute counted. I still have nightmares about leaf blowers.

Kyle's creative hero and TV favorite and Judd Apatow:
I'm amazed that Woody Allen still makes a movie a year. [I like] Family Guy (2008 - 2013) which is pretty hilarious. It's just really good joke writing in my opinion. And, I think Judd Apatow is great. I got see him work a little and his success is no fluke.

On the TV character he'd like to be for a day:
Superman

Looking to the future:
I think there will always be a place for great movies. I think the big difference is going to be in quick content — there seems to be a growing need for content for phones for example. There are a lot of platforms right now. I think there will be winners and losers that will shake out over the next two years or so. There's going to be work for scrapers like me that can do things cheap. Not that I want to!
[Personally], I'm working on an hour stand-up special right now.