When Ira and Mo moved to New York City almost 15 years ago, they made a pact that after a certain amount of time, if they hadn't "made it" in their chosen creative fields, they'd change course and pursue 'Something Viable.' They set a specific deadline as a fail-safe to make sure they didn't end up still auditioning and waiting tables in their seventies. That deadline, however, has been pushed, pushed, and pushed again. Ira and Mo are both talented, and always so close to a deal or gig that will open a clear path to legitimacy, money, and success, but the deadline is upon them. And this time they vowed -- no more extensions.

Mo and Ira's Plan B was a Mayan Apocalypse, which, tragically, failed to materialize. Now they face the most terrifying prospect of all: coming up with a Plan C.
Responses by Giving Up Director and Creator Kris Cefcoe

Finding inspiration from life…
Giving Up is inspired by my life — Mo and Ira are like 2 sides of myself locked in eternal debate. I also have a kid, and am a woman, which makes it even more ridiculous to keep living in New York, trying to make a living as a director. The prospect of giving up is something I've been stubbornly unwilling to face, other than in fiction, so the show dives into that forbidden thought. I wanted to flip the Hollywood storyline on its head and tell a story that's not about trying to "make it," but the opposite — trying to give up — which turns out to be harder. Tons of talented creative people have to face this question every day. How long should I pursue this maybe-impossible dream? I decided to turn that question into an urgent and tangible deadline for the characters and explore what it feels like to have to finally face the music and admit — it's over. The fact is, being talented and driven and tenacious doesn't always lead to success in show business. Sometimes you fail. And to me, failure and misery are the root of comedy.

My second feature had just fallen apart and I needed to shoot something as soon as possible, so I wrote a story that could be containable enough that I wouldn't need money. The original rules for Giving Up were: only locations I have access to for free, max. 3 actors in a scene, max. 2 pieces of wardrobe or props per actor. I stuck to those rules for the first 5-minute "episode" we shot a couple of years ago. Then I wrote a full half hour pilot and the rules pretty much went out the window. But we got it done!!! Long live Giving Up!!!

On trolling comedy clubs and finding YouTube clips for cast:
I like working with comedians and asking them to play it straight. Comedians have great timing and tend to be pretty depressed so they have access to a lot of darkness. This is perfect for a sad comedy like Giving Up. So I trolled comedy clubs, did some lurking at UCB shows, ran around to catch 3 standup sets in one night, and I watched local comedians' YouTube clips online.

That's how I found Ben Kronberg who plays Ira, Googling for NYC comedians. I was specifically looking for a standup to play Mo but then ended up casting Zandy Hartig the old fashioned way — I watched her reel. Zandy has this untapped seething anger, so I ended up writing Mo a little angrier to exploit that. A stoner with explosive anger is funny and more complex than the Mo I'd originally written who was more laid back. Weirdly, Zandy plays a standup comic in the show but is virtually the only person in it who isn't a standup comic! We got Kyle Dunnigan with the help of the amazing Anna Hossnieh who is a comedy booker / producer in LA. An old friend of mine who does some casting recommended Linas Phillips for a smaller part, but once I saw his reel, I realized he could basically play any character in the show. He's a heart-wrenching actor.

Sometimes I use Twitter to reach out to people since I don't have a big enough budget for the project to be appealing to anyone's agent. That's how I got in touch with Dave Hill, private direct message, because luckily he followed me on Twitter. It became easier to cast people once David Wain came on board as Executive Producer. Once I could drop David's name, I felt empowered to approach anyone. So I guess you could say I found my cast a million different ways.

Recalling the unexpected while shooting Giving Up:
When you're shooting guerrilla-style with little or no budget you have to surf the chaos, but I tend to be picky about how things look, and am obsessive about shot composition. So all that adds up to a fine recipe for holy crap! It's like you start out with a high-falutin plan inspired by a Gordon Willis lighting scheme, and you wind up just struggling to get the actor to say the words before the rain wrecks the camera.

Twice in one day we lost our location in the middle of shooting the scene. Like we got permission to use the doorway of a fencing club in Gowanus. Actors were coming out the door supposedly leaving a comedy show. Once we got the wide shot establishing the doorway I thanked the owner for his patience - he'd stayed an extra few minutes so we could get our shot with the open door- and said he could lock the door now no problem. We reset the camera to shoot the closeups, and the owner, closing up shop, pulled down a heavy silver security door over the entire entrance so the background we had established was obliterated, then got in his car and drove home to Queens. My brain melted. Somehow that scene still worked.

Another surprise was the actress who plays Mo was stuck in LA and couldn't come to NYC to get our pickup shots, so we had to shoot a lot of stuff in LA and fake it for New York. There's a scene where she's talking to Dave Hill — her side of the conversation was shot in LA, and the Dave Hill side was shot in my kitchen in New York. Luckily the geography of the rooms matched so you'd never know the scene was Frankenstein'd together with actors on opposite coasts. There were plenty of production disasters every day but that lunacy is what I love about low budget production, it's so fun to rob and steal for the sake of storytelling. And thanks to The Beast - DP Nicolas DeMiranda - the show looks awesome!

On Atlanta, Transparent and other inspirational shows…
Atlanta. I'm deeply in love with this show. I see shades of Ozu, Antonioni, cunning cinematic decisions being made. I hold Atlanta in my heart as proof that risky uncompromising visions can be supported by networks and touch viewers and basically just rule. I once made a fake episode of Cops that I tried to figure out how to get on air and fool people. Episode 7 of Atlanta fulfilled my dream of what's possible to get away with on TV.
Transparent. This show is so well written and acted, it reset the bar.
Louie / Better Things. So much has been said about Louie I don't need to go on about it. I'm fully digging all the shows that Louis CK has been producing with Blair Breard at Pig Newton. I live for Louie Anderson on Baskets, but in particular, I'm so heartened by the success of Better Things. It makes me feel like what I do has a shot these days and maybe I oughtta postpone giving up for a sec.

Larry Sanders is maybe my favorite show of all time because duh.
------------------------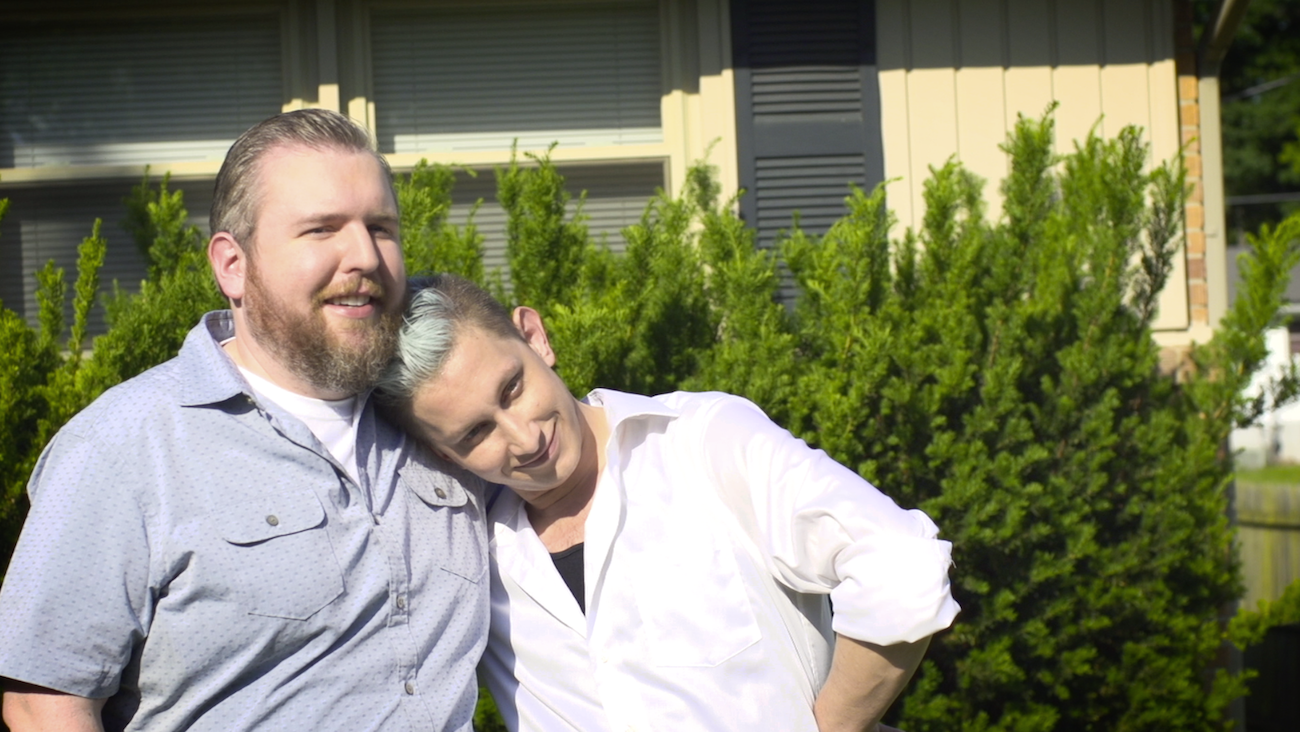 When he can't afford a retirement community, a nursing home, or a caregiver, Rudy Hendricks and his husband are forced to move back to his hometown in Kentucky to care for his ailing conservative father. It's a big adjustment from Blue State to Red State but the two of them take it one day and one crisis at a time. Along the way, he grows closer with his sister who is a single mother, and his gay but repressed best friend who never left home.
Responses by Down Home Creators and Directors, Colby Holt and Sam Probst

On facing difficult realities and finding inspiration for Down Home:
Over the last few years, we have watched both of our parents navigate the decline in health of their parents including three deaths. It can be an intense and transformative experience. You confront your own mortality and deal with (and sometimes not) life-long differences or tensions that bubble to the surface in times of difficulty. It's hard to care for an aging parent. You are faced with hard decisions, and sometimes it's not clear what is best or whose decision it is to make. We also wanted to explore how people on both ends of the political spectrum can find common ground in the extremely polarizing moment we find ourselves. We hope this is can be a cathartic experience for anyone who has been through something similar.
On working with actors from the 'Gayborhood' and new ones from Kentucky:
Most of our main cast was comprised of actors that we worked with in Chicago on a myriad of different projects — most notably, our other series, 'Gayborhood', a vapid over the top comedy with a very different aesthetic from 'Down Home'. It's really fun to switch gears and do something completely different with actors that you trust. However, several of our supporting actors were local Kentucky residents who had no acting training or experience.
On making friends with the neighbors…
We were shooting a scene that took place on the front lawn of a house in this adorable neighborhood in Paducah, KY and throughout the course of the two hours we were filming there, the neighbors set up a BBQ, hauled out a cooler, and started drinking on their lawn as they watched us shoot! They invited the whole cast and crew over and we had a blast— it ended up serving as our wrap party!
On finding inspiration from Jean-Marc Vallee and Alan Ball:
We both really like Jean-Marc Vallee (Dallas Buyers Club, Wild, Big Little Lies) because he is really good at conveying what a character is thinking through images and music. He adheres to the adage 'show it don't say it' in a really brilliant way. I think we also both really respect Alan Ball and Six Feet Under for how grounded it was and for his portrayal of David. It was the first time I think a lot of gay people saw a character who was gay but not defined by it as his sole personality trait. He was just a person with all this other shit going on and he just happened to be dealing with his sexuality as well.
And on making their first feature film:
We are actually working on our first feature film! It's a drama about a trans woman who is fired from her job when she is outed by a co-worker. We hope to highlight how governmental and societal institutions make it difficult for trans women--especially those of color-- to achieve even the most modest of goals. We are very excited Monica Beverly Hillz (RuPaul's Drag Race, I Am Monica) has agreed to play the lead role!
-----------------------------
What happens when Reggie Watts (Comedy Bang! Bang!, The Late Late Show with James Corden) hangs out with The Cooties (Ethan Edenburg, Eric Jackowitz, and Jacob Jeffries) and they start pitching the silliest TV show ideas they can think of? The result is "Dad Friends," the story of three half-witted friends on a mission to find new "wife-moms" to take care of their newborn babies. In collaboration with JASH and director/ executive producer Raul B Fernandez, this wacky adventure weaves in and out of musical numbers and genre bending action. Follow the "Dad Friends" as they battle the dating scene, get black out drunk, receive inspirational guidance from Reggie Watts himself and, generally, just try to stay alive.
Collective responses from Dad Friends Creative Team, The Cooties
On just stumbling upon the idea for Dad Friends:
We had just opened up for Reggie Watts at a show in LA. We met him for the first time backstage and for whatever reason started pretending we were in a sitcom. 100% in our own world. Originally, we were mistreating our children and then Reggie would come in with a plate of mini hot dogs and have some really silly catch-phrase. It was all just a dumb bit until Reggie said, "I gotta put you in touch with JASH, because we should actually make this show." The next morning we jokingly wrote the theme song and just like that, "Dad Friends" was born. When it got to JASH, it was originally a 5 episode web series. We wrote all of the scripts, and they liked it so much, they decided to make it a full fledged pilot. So we scrapped all of the scripts and re-wrote the full length pilot story.

…but there's always the money obstacle:
Money. Money. Money. We were WAY too ambitious with the scope of our story in comparison to our budget. We ended up having to re-write scenes many times because of last minute logistical issues, especially with locations. In one iteration we met Reggie in a jail and in another at a rundown motel. We were changing the script up until the week of the shoot, even up to the night before. There were many instances of locations dropping out, actors' availability being re-arranged, and having to re-write around it on the fly.

On bringing the cast together:
The cast is mostly friends and people we have met in the comedy scene of Los Angeles, along with a few folks cast from the internets. We also wanted to work with our heroes, so we enlisted the help of Reggie Watts, Todd Glass, and Ron Lynch. They are the Cooties' guardian angels and put us on their shows when we were first starting out, so we wanted them to be a part of it more than anything.

Taking in the Reggie factor…
Fortunately (unfortunately for the spiciness of this answer) things went pretty well and everyone kept an even keel throughout the process. Of course, when you have somebody like Reggie Watts whose schedule is insane because of a daily late night show, Ted Talks, and his own solo shows to work around, there were a lot of rewrites because of availability. We really weren't sure he was going to show up or not until a few days before his shoot day.

Giving shout outs to their creative inspirations:
Fred Armisen and Bill Hader, because they really seem to do whatever they want and it's always hilarious. Sir Reginald Watts, of course for obvious alien overlord level reasons. Everyone at JASH for pumping out a ton of content that they believe in! Including ours! We also have many British heroes. Julian and Noel from The Mighty Boosh, and Matt Berry from Toast of London all appreciate silliness for silliness' sake. We also love The Beastie Boys, Flight of the Conchords, and The Lonely Island for obvious reasons.
…and their favorite shows:
We love silliness with a purpose, shows like Rick & Morty and Veep. Hyperbole parody stuff...over the top for a reason. [We also like] The Office and Curb Your Enthusiasm for the sheer hilarity of the performances. Silicon Valley is fantastic as well. We love the cliffhanger aspect of that show, as well as really smart people acting stupid.
Looking to the future and creating 'neo-escapist' comedy:
There's no way to tell where [the future of entertainment] going to go because the current landscape seems like the Wild West right now with all of the quality content coming out on digital outlets. As far as where we fit in, right now comedy is very political, which works to our advantage because we just want to be silly. We want to be the break from all the "serious humor." We jokingly call it neo-escapist comedy art. We'll also fit in because musical comedy, when it's done well, is a rare breed and very special. It's literally melding the best of both worlds.

On their wishes of who to work with someday:
I think we've pretty much answered this, without answering it directly, but… Bill Hader, Kristen Wiig, Fred Armisen, Steve Carell, Tom Hanks, Michael Cera, Edgar Wright, Spike Jonze, Judd Apatow, Richard Ayoade.

If I could be a TV character for a day, it would be…
Gary Coleman's character from Diff'rent Strokes, Arnold Jackson. To go from impoverished orphan to penthouse living city slicker in a day seems like the uplifting, societal hierarchy climbing, kick in the pants we all need right now…

And a hint of what's next…
We are currently working on a new show called "The Cooties Program." Set in Los Angeles, it's Portlandia meets Flight of the Conchords meets Broad City. It's a bit more grounded than Dad Friends, but with just as much (if not more) music - but still very very silly.