Subculture is a thoroughly modern exploration of our evolving relationship with drugs, legal and illegal, and how these substances have left their marks on regional cultures throughout history. With the authenticity and wit of Anthony Bourdain's Parts Unknown, the integrity of Dr. Sanjay Gupta's Weed documentary series, and the candid spirit of Hunter S. Thompson's early writings, Subculture host Ricardo Baca's acclaimed journalistic curiosity tells the narrative of real people, local foods, and misadventures in travel as the normalization of global drug culture continues to evolve.

When Baca launched The Denver Post's influential website The Cannabist in 2013, he built a national staff of reporters, critics, and columnists and pioneered the way big media approached marijuana journalism in the legal era. After 15 years at Colorado's newspaper of record, Baca resigned in January to launch his own content agency and freelance for the likes of the The Daily Beast and Esquire. His work at The Cannabist earned him international notoriety, and after hosting more than 100 episodes of his weekly talk show and podcast and authoring thousands of articles, Baca was named one of the Seven Most Powerful People in America's Marijuana Industry by Fortune magazine in 2016.

So what's Baca's next move? In this provocative new docu-series, host and journalist Baca tells stories that illustrate the culture of substances globally, a.k.a. the Subculture. As he investigates the biggest drug policy changes of our lifetimes, he also dissects the recreational trends that are redefining our relationships with these drugs and researches the ancient rituals central to some of the world's most historic cultures.

From the zero-tolerance drug policy of the Philippines to Portugal's experiment with full-on decriminalization, Subculture embraces this fascinating intersection of time, place and substance to tell the most gripping narratives out there—from Bay Area startup execs microdosing LSD to Ayahuasca practices of ancient Peruvian spirit guides.
Responses by Subculture Director and Producer Mitch Dickman and cast member, Ricardo Baca
On keeping the conversation going from the big screen and making it into a series:
Mitch Dickman: The genesis came after our experience on Rolling Papers [https://itunes.apple.com/us/movie/rolling-papers/id1142099651]. A month or so after the premiere we were sitting around and realized that there was still more of a story to tell. We brought in a few new collaborators and then started exploring where we could take the conversation. The pilot was a logical decision to go from a feature doc to a docu-series concept.

Ricardo Baca: I'd already spent an entire year with director Mitch Dickman working on Rolling Papers, the feature-length documentary about The Denver Post's coverage of Colorado's first-of-its-kind legal cannabis market that debuted at South by Southwest in 2015 and played theatrically (and later on Netflix) in 2016. Mitch directed, and I was one of his subjects -- the newspaper's marijuana editor and the founder of the industry-leading publication The Cannabist.

As my journalism took me to Uruguay to cover the first country in the world to legalize adult-use cannabis, Mitch and his team followed me -- and while we were there we brainstormed the concept that would eventually become Subculture. In focusing on the culture of substances and our relationships with them, and how those vary dramatically (positively and negatively) in different parts of the world, we felt we could tell compelling stories that hadn't been covered before. And by adding a Bourdain-like quality to the show, which relies on expert voices and vignettes of local culture and food and street theater, we think we make it all the more entertaining and watchable.

Some thoughts on creative heroes (or companies):
Mitch Dickman: Hmmm. I don't have specific names per say, but I think the work that HBO, Netflix and Amazon Prime are doing are really pushing the bar of new content. But guilty pleasures like anything sports, F that's Delicious and Ridiculousness are good escapes after working in creating content all day every day.

Ricardo Baca: I agree with the theory that we're going through another golden age of television -- and content creation in general. I love the new voices some creators are bringing to the screen, including Aziz Ansari and Viceland. In his Netflix show Master of None, Ansari has debuted a unique voice in an industry that is desperate for more of them. His show is unashamedly stylized, quick-witted and intelligent. He breaks rules as he writes new ones, and he impressively has a way of matching aesthetics between his writing, acting, shooting and visuals -- employing old-school film techniques and creating new ones along the way.

As for Viceland, I appreciate their gumption and voice. I like the mid-commercial break, DVR-busting vignettes they throw in, which often allow a deeper understanding of the show's subject matter. I respect them for their intelligent embrace of cannabis as subject matter and their boundary-pushing shows that document our hyper-modern current reality with weed, especially as so many networks still aren't quite ready to talk about marijuana without the fear-mongering of yesteryear (even though we're coming to realize that this drug is considerably safer than alcohol or nicotine). Both of these voices are modern and smart, and they've certainly won me over.

Giving more kudos to Anthony Bourdain:
Ricardo Baca: I mentioned Bourdain earlier, and it's worth noting that I think Parts Unknown is one of the best shows on television. Of course his voice is essential in this mix, but what most draws me to the show is its emphasis on cultural history and current events -- in addition to Tony stuffing his face with local delicacies and potent beverages. I love television we can learn from, and in making the very real jump from No Reservations to the more substantive Parts Unknown, I think Bourdain did something very wise -- he pushed his brand to the next level in giving his viewers more historical meat to chew on.

Entertainment consumption may be ever-evolving, but at the end of the day…
Mitch Dickman: I think it still comes down to good characters and good stories. The format and the way people watch stuff will constantly be changing, but focusing on the foundations will be what keeps the whole thing standing.

"If I could be a TV character for a day," there's a '70s children's psychedelic icon who was the nemesis of witchiepoo:
Ricardo Baca: H.R. Pufnstuf. Because I once dreamt I was the series' titular mayor of Living Island after eating psilocybin mushrooms in the forest once, and to this day it was one of the best dreams I've ever had.

And what's coming up…
Mitch Dickman: I have a lot of different projects in the works, but White Rose is the project that I'm most excited about right now. It feels very current and fresh dealing with real kids at a high school dealing with contemporary issues ranging from relationships with significant others to school security and racism.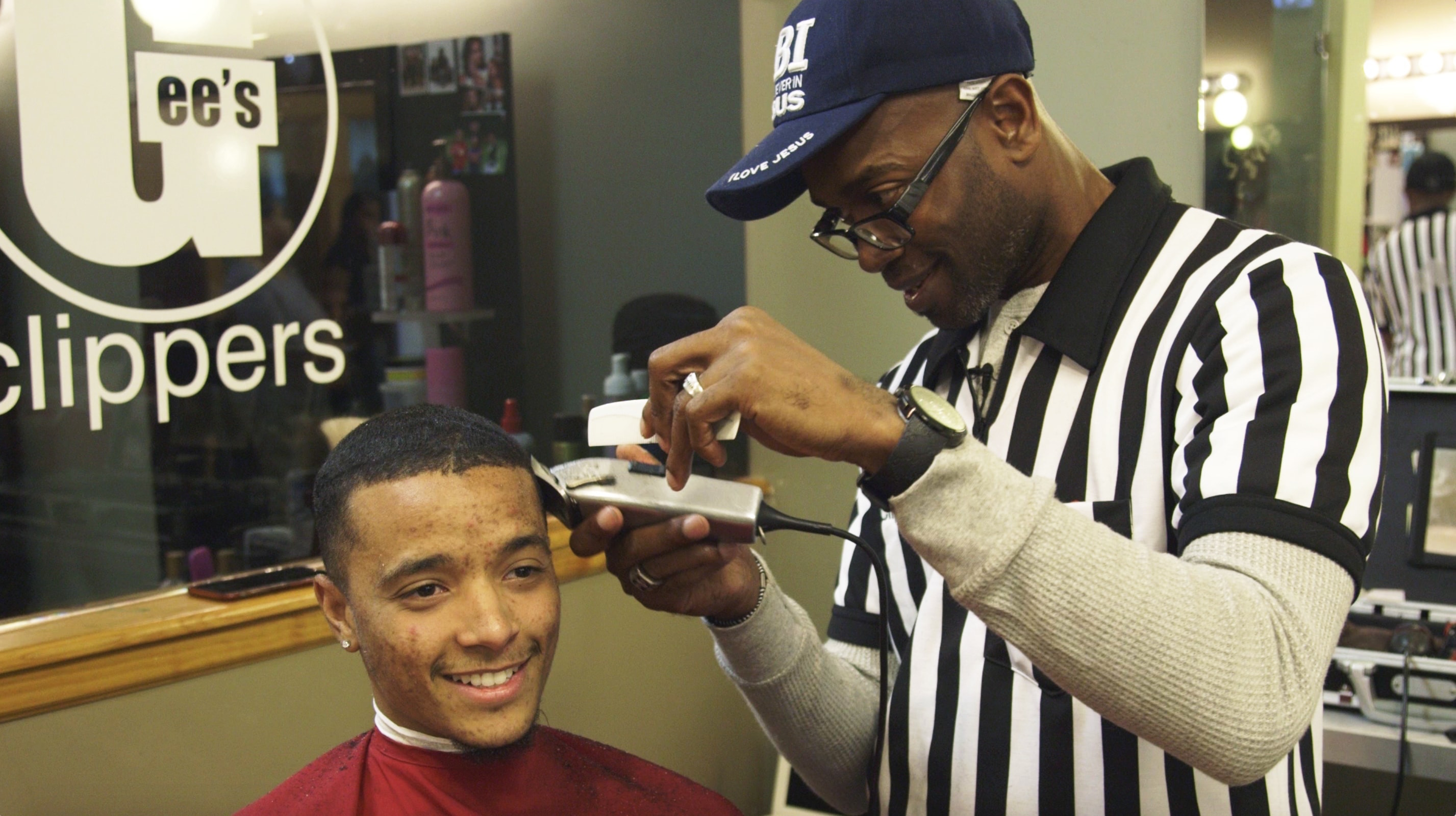 Though Time Magazine called 2015 the "transgender tipping point," years since have brought a wave of regressive civil rights laws. Radical social conservatives are targeting trans folks by leveraging fear and ignorance to create a social climate of unrelenting hostility. Trans people are caught in a culture war, as lawmakers fight to protect the supposed "right" for businesses (MS and NC), schools (TX), and even health professionals (TN and TX) to discriminate.

America in Transition (AIT) uses character-driven storytelling in order to highlight important issues confronting trans people in the south and communities of color. The series features 18-minute episodes, each highlighting a different character's story. Through interview footage, observational footage, family photos, family videos, reenactment, street photography, motion graphics, and portrait photography, viewers gain an intimate perspective of the individual and information to help contextualize their experience.

Created by a majority transgender and people of color crew, AIT is rooted in community, bringing together authentic voice and high production quality. Viewers gain an understanding of the cultural context our characters live in and so many episodes will feature intimate conversations (Storycorps-like) between our characters and the people they are closest too. AIT episodes are deeply personal, going beyond the issues people face to connect with them on a human level: Where did you find love? Where is home? Why stay? AIT focuses on interpersonal relationships as it explores where, when, and how change happens in a complex individual, a diverse community, and a divided nation.

AIT is a more than a series, it's a community engagement campaign and online educational platform. Every episode has a partner organization and corresponding ways for viewers to take action. It is also accompanied by an educational tools that speak to the different realities trans people face based on identity, geography, and social context.
Responses from America In Transition Creator, Director, Producer, Andre Perez
Andre on coming into his own, appreciating the past and how it all helped developed into a series…
I am a Puerto Rican trans man from Virginia and North Carolina. [I was] raised Southern Baptist and I grew up in a military family. Steeped in a conservative culture that never imagined my existence, I didn't have the tools to become myself until I left. In order to assimilate into urban queer life, I un-learned my accent and only listened to country music in private. In short, I gave up aspects of my culture to find a sense of belonging. Yet, as I've gotten older, I realize that being Southern is still an important part of who I am and what has shaped me.
We shouldn't have to give up part of who we are in order to embrace another aspect of our self-hood. I am excited to return home in order to explore and celebrate queer people fighting for the right to stay and creating space for ourselves in the communities we came from. I want to talk about the South and about communities of color in complex and nuanced ways that go beyond the urban bias to highlight the legacy of amazing queer culture that has managed to thrive despite hostility.
On the future of entertainment and a warning:
A lot of prestigious cultural institutions are going to have a crisis over the next decade because they are very white-led, and are getting in their own way. These institutions have cultivated an audience that's shrinking, and they don't understand how to change to become relevant to communities of color and younger people with complex identities.
TV, especially online, is going into a golden age because it's rising to the challenge more than a lot of other industries. I hope we see even more TV that takes a risk on emerging talent because I am excited to seeing what creators from many different backgrounds are capable of when we finally have the chance to tell the stories that matter to us.
If I could be a TV character for a day…
I am obsessed with Sense 8 season two right now. I would love to be the nerdy trans woman with the girlfriend who is wildly supportive. I love the way that show conveys human connection, and is about this strong sense of family that the cluster has with one another. Somehow they are always somewhere gorgeous, and they are often having a great time together.
On taking a look at Puerto Rico and its history through his family:
I grew up not knowing nor thinking about my father or my Puerto Rican heritage because I was raised by my mother who believed the US is the best place on earth. As an adult, I came to admire Puerto Rican independenistas and the movement to expel the military from Vieques. When I'm there's, I'm always conflicted, and with the debt crisis, it's really bringing to a head what decades of imperialist policy has created on the island. I want to create an autobiographical piece that explores nostalgia, homeland, and the Puerto Rican imaginary through my own family history.
--------------------------
Daniel, a young, gay Korean-American living in New York, gets an early morning call from his mother, Esther. She's in LA, dusting off her Jesus paintings. He's in bed with his boyfriend. This call is just one of many throughout the day as we follow Daniel to his off-off-off Broadway rehearsal. At the end of the day, Daniel receives another call from his mother -- this time with news: Auntie is dead.

Daniel flies back to LA and is picked up by his mother. He prides himself on being in touch with his emotions (or so his therapist says) and is ready to mourn. His mother is incapable of it. After a series of errands, they return home to find inexperienced medical students rolling out Auntie's body. Apparently Auntie donated it to science. Again, Daniel tries to mourn. And, again, his mother is incapable of it.

That night, Daniel is forced into saying grace at their family dinner. In a surprising turn of events, a simple prayer turns into a reckoning—between Daniel and God, between Daniel and Auntie and, ultimately, between Daniel and Esther.

A few weeks later, Daniel is back in New York and Esther is back to being her old self. All is normal again – except, not quite.
Responses from According To My Mother Creators (and more) Daniel K. Isaac and Cathy Yan
From Facebook #hashtag to series…
I first began writing snippets of dialogue on Facebook to share unintentionally hilarious but still horrifically homophobic or surprisingly sexist or deeply racist or inappropriately personal exchanges I'd had with my mother. The #AccordingToMyMother was born.

My filmmaker friend, Cathy Y. Yan approached me to turn these posts into a short film. I had acted in a film written and directed by Cathy, which featured an Asian American leading role. As an actor, I've often been confined to playing the best friend, the doctor/lawyer, or the villain. Actors of color are constantly battling stereotypes, marginalization, if not erasure altogether by whitewashing. So Cathy and I were determined to write leading roles for a young gay Asian male and an Asian female in her golden years – not as Asian archetypes but as flawed and real people.

On the arduous search for 'Esther':
We were very determined to cast a Korean-speaking actress of the right age for Esther. Esther speaking Korean to Daniel is an integral part of their relationship and we also very much did not want to substitute another ethnicity -- there's already way too much of that! But finding our Esther took a lot of time with not too many options given the dearth of work for older Korean / Korean-American actresses in the U.S.

Several amusing recollections from the creation of According To My Mother:
- My real-life mom let us shoot in her house in Fullerton, California. She cooked traditional Korean food for the entire cast and crew and judged people for how many portions they ate. If you asked for seconds, she loved you more. One night, she recommended an all-you-can-eat buffet for dinner and then scolded everyone for how little they ate. And she made a cameo in the dinner table scene! We shot one take of one set-up and she asked if we were done. We all laughed.

- We shot the off-off-off Broadway play in a theatre that I (Daniel) had worked in as an assistant director for a Fringe Festival Play that only played two performances because Hurricane Sandy cancelled the majority of the run.

- Cathy, our director of photography, Sheldon Chau, and I bought seats in the last row of a plane and shot an entire scene while the flight attendants laughed and assumed we were being silly tourists. Sometimes it helps to use stereotypes in your favor...?

- Our brilliant costume designer, Angela Harner, made a sagging-breast-bra by filling an over-sized bra with birdseed. Our lead actress kept the bra for future auditions.

- The tiger-(mom)-shirt that Esther wears in the film was my mom's real shirt. Our lead actress also asked if she could keep this. My mom let her. Sometimes real life is funnier than you can imagine.

On finding inspiration from Transparent:
Transparent is bold and beautiful. It doesn't shy away from flawed characters and certainly doesn't feel the pressure to deify trans people. This is how we want to approach the "diversity" in our show. Being gay or Korean or Asian American is just one aspect of who Daniel and Esther are, but the more real (and believably and wonderfully flawed) they are, the more universal their story becomes. And that's what makes these different stories and voices appealing.

Coming up: 'Dead Pigs,' a musical and Showtime's 'Billions':
Cathy just wrapped on her feature directorial debut with "Dead Pigs," a darkly comedic drama about five very different people who converge and collide with each other as thousands of dead pigs float down the river to a rapidly modernizing Shanghai. It is funded by Alibaba Pictures with Chinese auteur Jia Zhangke as executive producer.

Daniel is currently rehearsing for a musical at Two River Theatre in Red Bank, New Jersey called "The Ballad of Little Jo." He also plays 'Ben Kim' on Showtime's "Billions" which is set to shoot Season Three later this year.