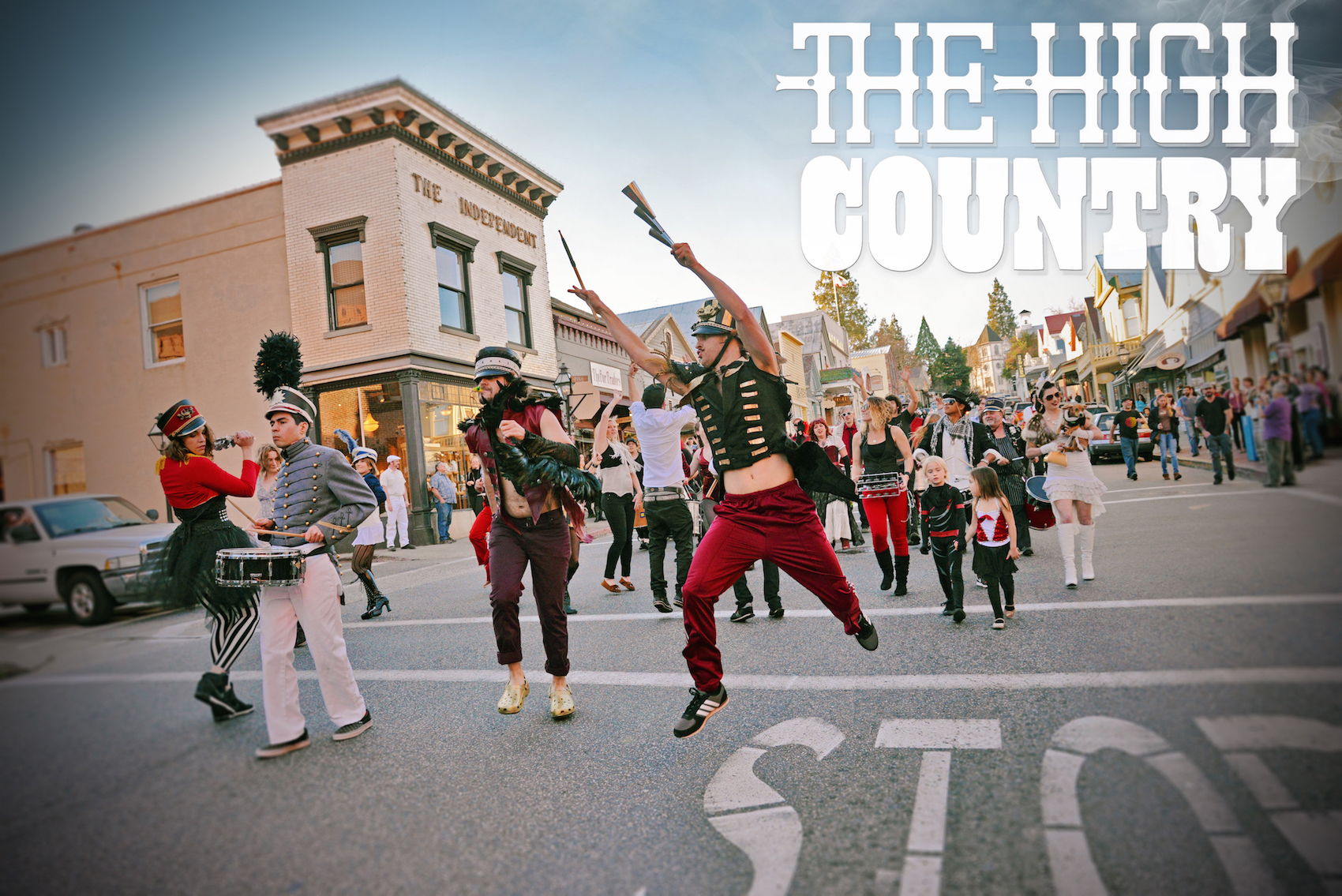 The High Country is a comedy about friends, freedom, and fucking up in the imploding small-town underworld of Northern California cannabis growers. It's a world of backyard chickens and dilettante shamanism, molly and meditation, cuddlepuddles and guns, Burning Man and baby mamas. Welcome to the last spasm of the Wild West.

Mark and Leon are moderately educated, marginally skilled, and have a work ethic sufficient for growing pot. But increased legalization and regulation in the Cannabusiness mean it's only a matter of time before their way of life is over. With the clock ticking, they're going to have to evolve or die—and fast!

Watching The High Country is best described as drinking a Little House on the Prairie and Breaking Bad smoothie blended in an Always Sunny in Philadelphia Vitamix, as served on the set of Portlandia.

With its roots deep in reality, the series serves up a hot, authentic slice of a subculture that has redefined the good life on its own, very independent terms. The High Country explores what "growing" means in every sense of the word.
Responses by The High Country co-creators Heather Donahue and Matt Herman:
On preserving a disappearing world…
Heather Donahue: Matt and I live within the cannabis-growing underworld of Northern California. It's a world that won't exist in ten years and we want people to know what it felt like to live there.
Matt Herman: We live in a place that is essentially a family-centric party town where everyone shares a secret. It seemed we were finding humor and absurdity at every turn. We talked about it being a good [idea for a] show, and then, six years later, we just did it!

Some of the biggest challenges were…
Heather Donahue: Training local peeps who had never been on set before. We had a very talented, very dedicated, and very green crew. We were also lucky to have deep industry veterans in some key roles, which set our true north, technically speaking.

Matt Herman: Catering. Surprisingly.

On talking cast…
Heather Donahue: We had a clear vision about who we wanted for our leads. We contacted them via social media, and, once they read it, they all said yes. We had auditions locally to fill in all the other roles, and that was an exhaustive and satisfying bit of mining.
Matt Herman: Fortunately for us, three of our leads are good friends and were excited to work together.

On the absurd, comic gold that is the title sequence…
Matt Herman: As the shoot approached, we realized we didn't really have time or an idea for an opening credit sequence. Then it occurred to us to, on the last day, put the cast in marching band uniforms and have them parade down the main street of our town with a large Samba marching band. It was renegade and it perfectly captured the spirit of our town and the series. We had a drone in the air, cameras on the ground, Heather at the freeway exit directing traffic away from us, and me leading the band. It was insane, and we love how it turned out.
On TV favorites and inspirations…
Matt Herman: Joke-heavy comedies like 30 Rock, Arrested Development, and a lot of animated shows have always done it for me - especially It's Always Sunny in Philadelphia and Curb Your Enthusiasm, where every joke flows perfectly from character, and they're able to push the limits of a mean tone while still making us laugh. We wanted to put some of the absurd surrealism you'd find in animated shows into The High Country and it ended up working pretty well. Serial dramas such as The Wire, The Sopranos, and The OA just blow my mind. I would love to write something so intricate and mind-bending.
Heather Donahue: I would love to work with Alec Berg from Silicon Valley, because he has such a clear, sharp voice that still manages to differentiate the characters and deepen the world. I'd also love to write for Damon Lindelof for basically the same reason. The way The Leftovers stretches out its tone is inspiring. It'll crack you up, wring you out, make you want to bitch slap - and that's just act one of any given episode!

If I could be one TV character for a day…
Heather Donahue: I would love to be Nora Durst from The Leftovers. I have no idea what's going to happen to her next, but [I know] it will be enormous, logical, and mind-blowing.

…and coming up next:
Heather Donahue: I've just finished writing a horror feature called Palm about the genetic story gore (???) sisters carry to the Mayan Riviera. I'm [also] developing a TV comedy about a tiny orphan who feeds on light.
Matt Herman: I'm working on a couple of comedy shorts that I'd like to shoot this summer. I'm also developing a TV comedy series about an in-love couple winding their way through the various alleys of polyamory as they try to design a "custom relationship."
----------------------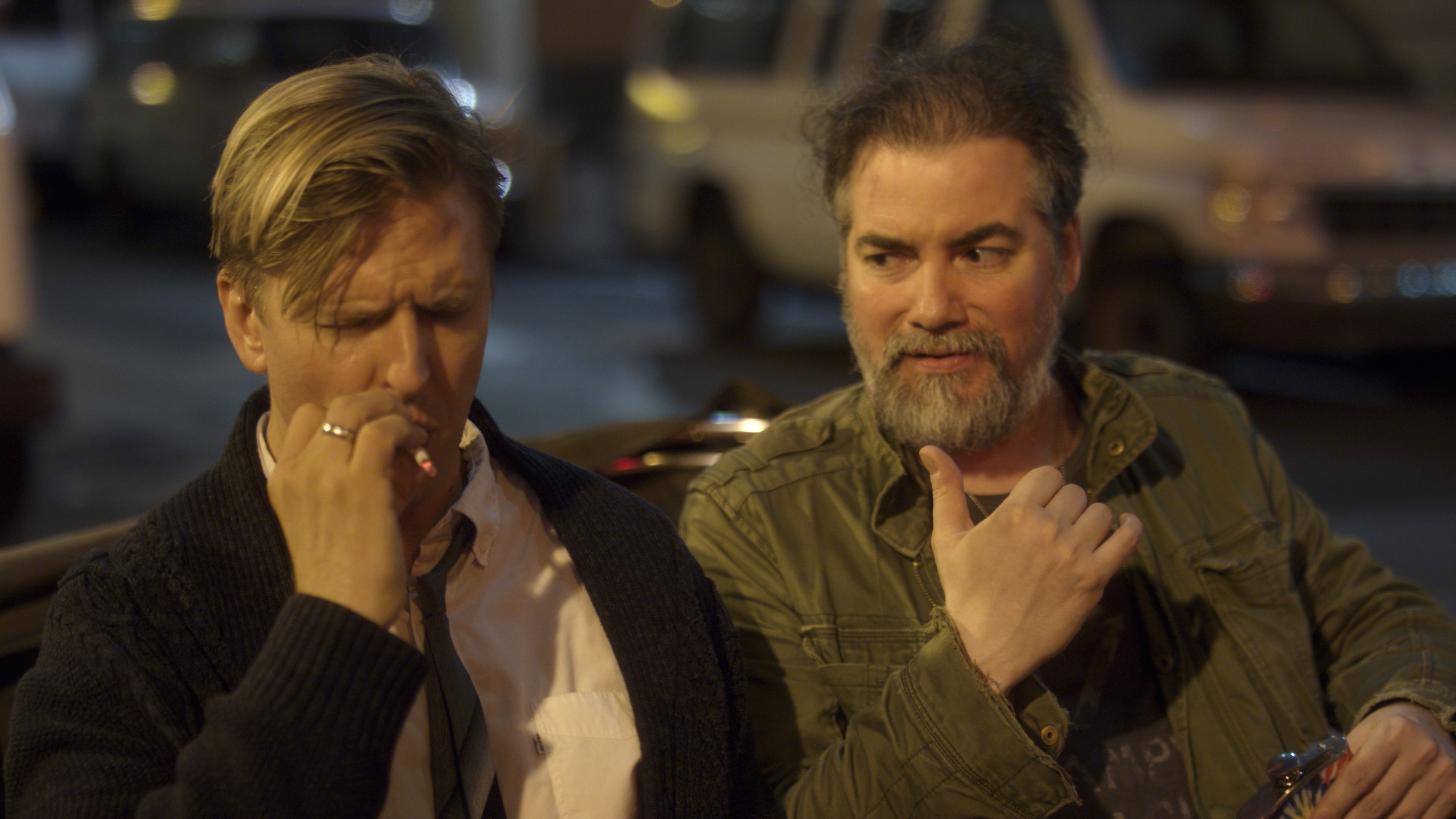 The Holdouts follows our hero, Kevin (played by Kevin Corrigan, Grounded for Life and The Getdown), a working class guy living where the working class is no longer welcome: New York City. He is the lone soldier in a war to save his beloved, vanishing New York—the corner pub, the 24-hour bodega, the Jewish family deli, the fourth-floor walk-up, the old neighborhood—and enlists the help of his roommate (a NYC transplant who loves Starbucks) to join him in his stand against the "enemy."

Kevin's rent-controlled apartment (and childhood home) is the last one left in a vacant building ready to be leveled for condos. But when his landlord makes a lucrative offer to buy him out, Kevin must decide whether to sell out and start a new life elsewhere or stand his ground and take on the establishment.

The Holdouts is a comedy about New Yorkers who can't afford to live in New York anymore - that disappearing, forgotten generation of New Yorkers trying to survive in a city that no longer has a place for them, but has plenty of room for Citi Bikes. Also starring Jayce Bartok, Michael Buscemi, and Deirdre O'Connell (The Path, The Affair).
Responses by The Holdouts creator Stephen Girasuolo:

Gentrification and the birth of a series…
I was being forced out by my landlord of 25 years in Hell's Kitchen…[meanwhile], my co-creator Dan Menke wanted to write a part for [lead actor] Kevin Corrigan as a man out of time living in New York City. Something started there. Then, my landlord [shut off] my cooking gas for at least a year. No heat and no hot water was commonplace. Also, after living in Paris, Italy and Brazil for 7 years, I returned to NYC in 2009, a city I honestly didn't recognize. That informed something as well.

I remember I walked into Whole Foods in Union Square and asked a kid working there where all the New Yorkers went. He said, "Where have you been? They all moved to Canarsie!" So that all fed into it. Dan lives in Williamsburg and witnessed that whole neighborhood transform into the hipster capital of America. It was a lethal creative combination of the two of us crying out for some attention around a serious issue, a changing city that no longer has a place for us, and putting some dark comedy around that issue and story in the form of a series, while having a wonderful actor like Kevin Corrigan taking the lead.

I mean, a lot of meaningful places and institutions are closing down. One by one, all these places are disappearing. And the working class people are disappearing along with them. Tony Danza called the mayor last week and asked him to help out. Danza owns an old cheese shop. Our mayor offered no solutions. It was terrible. It all seems like some terrible coincidence. We know the deal: these changes are quite deliberate, calculated by developers, city officials and community boards. The Holdouts was born from all this angst, passion and helplessness. And when we launched our Kickstarter, we received support from many people including the press - not only in NYC, but around the country and even in China! And when we saw that, we knew we had struck a nerve with a lot of folks.

On assembling an all-star cast of New Yorkers…
Well, Dan knows Kevin and (costar) Jayce [Bartok], so that's how that happened. He had them in mind from the start. Jayce is friends with Daphne [Rubin-Vega] and we were able to get her involved. How amazing is that? Then we had a wonderful casting director, Caroline Sinclair, who helped us cast the remaining actors. And what a wonderful job she did! My friend and actress Leslie Silva suggested Chris McKinney. And I bumped into Francis Meteo on the street! We go way back. And I always admired the work of Didi O'Connel and [the agency] Innovative Artists was a big help in securing Didi and Nadia Dajani. It was truly a magical dream cast of New Yorkers, including the great Michael Buscemi!

On budget, generosity, and that damn Rickshaw scene…
Well, without a doubt the greatest challenge was filming 30 pages in less than four days, which is what we did. Our budget was $32,000 and we went considerably over and received additional support from a few investors, but working with that budget was…a challenge. Without the support of many people donating lighting, electrics, camera equipment, post-production color and sound, their time - well, without all that, we never would have [completed] this pilot. The biggest challenge in filming was the Rickshaw scene. Hands down, that was insane. Having a camera crew, actors and assistant directors handling traffic and safety around Times Square under our budget constraints? That's nuts! But I really wanted to do that scene - it's vital to the story. That scene almost didn't happen.

On creative inspirations and the new Archie Bunker…
Dan and I talk about Seinfeld all the time because they had specific rules in their writing room. It had to be based on some real circumstances. The stories had to come from some personal space. We need to be connected to the stories to make them specific and resonate. That has influenced us. Also, Togetherness played a big part for me [in developing my series]. The creators really found a nice balance between comedy and drama that was just pure beauty. We try to achieve that balance. Also, 70s films: [John] Cassavetes, Taxi Driver, After Hours [were] all influences into the world we wanted to create. Sure, we see luxury apartments with putting greens and pet spas and private parks, but our world is a world you rarely see on TV: rickety house boats in Far Rockaway, peep show booths in Times Square, makeshift living rooms inside cramped storage facilities. That's The Holdouts, and Kevin is our anti-hero, our mouthpiece without a filter, like Archie Bunker was for his time.
---------------------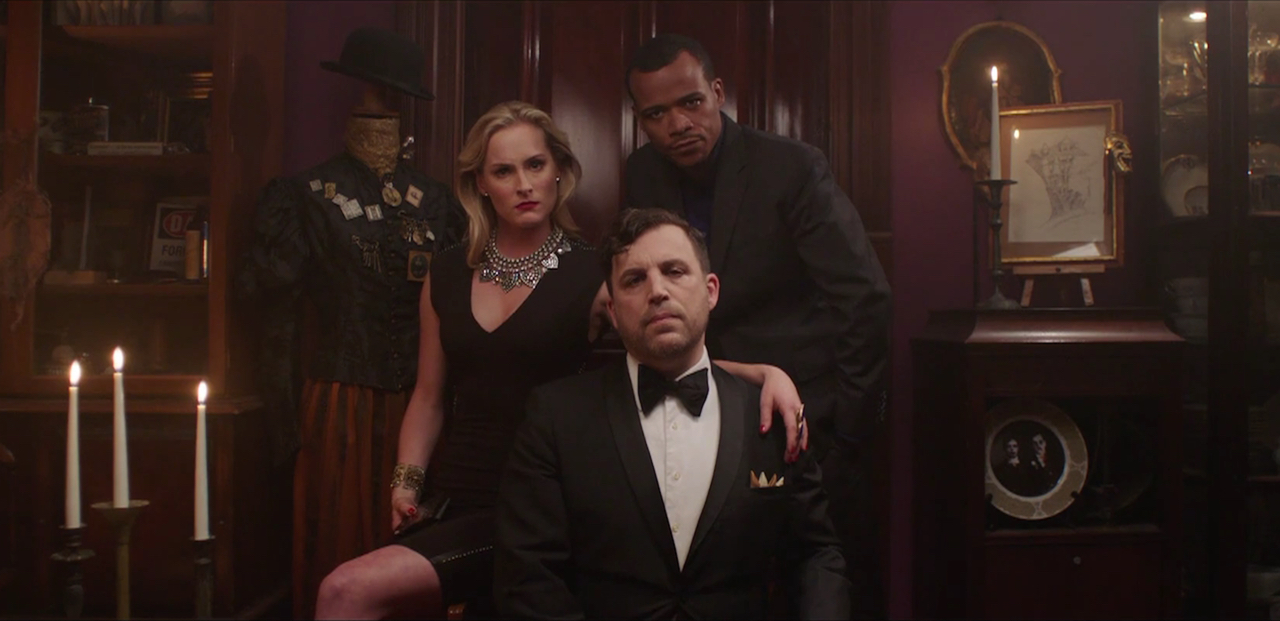 In a freak accident, Leland, a balding, overweight 35-year old is accidentally turned into a vampire by Marius, a sexy 200-year old blood-sucker who hates his immortal life. The unlikely pair join forces to take a stand against an ancient council of vampires seeking to protect the image of vampires everywhere by destroying Leland.
Responses by The Vampire Leland creator Tijuana Ricks:

When college friendships lead to creative collaborations…
My first love is acting. I went to the Yale School of Drama and have been lucky enough to establish a steady career acting in television in film. But during a particularly slow pilot season, one of my classmates from Yale and I decided that it was time to start making our own stuff. So I started producing. My first short film, Human Resources: Sick Days Aren't A Game, was written by my long-time friend and creative partner, Ken Ferrigni and directed by another Yale grad, Jeff Barry. We were an official selection at six major festivals.

While we were screening at the SoHo International Film Festival in New York City, the cast and crew all went out to celebrate before the showing. Ken and I were brainstorming ideas for our next project together when Tony Manna (Leland in The Vampire Leland), another Yale friend who made a cameo in Human Resources said that he'd always wanted to write something about an average guy like him who is accidentally turned into a vampire. This was during the height of the sexy, fancy vampire craze. From the laughter we shared, we knew it had to be done. In the question and answer after the screening, when asked what was next, I told the crowd that Tony, Ken and I were going to make the accidental vampire movie. We kept our word.

Springtime for vampires…
We had originally planned to start production in the fall but had to scratch that idea when I booked a couple recurring roles on some shows (Luke Cage on Netflix and Billions on Showtime) and Tony Manna was cast in an off-Broadway play that ran until December. So we pushed to the spring, not thinking about how many hours of darkness we would lose. It didn't get dark until almost 9pm and the sun came up at 5am, so there were a lot of late overnights chasing the sun. Lesson learned: filming a vampire movie in the spring is not something I'll do again. Also reflections…vampires have no reflections and I now believe everything on earth is a reflective surface.

Casting made easy: use your friends!
Kathleen Butler who plays Gertie is the only cast member I did not know [previously], and I quickly fell in love with her. She was recommended by Ken [Ferrigni's] wife, who had worked with her in a play in New York. She could not have been more perfect in Leland. The rest of the cast are close friends of mine who happen to be crazy talented actors. And what's the point of making movies if you can't cast your friends?

On dealing with crap on set…
We got really lucky with some of our locations and were able to film in some beautiful historic homes. One of those homes was owned by a lovely man who is an avid lover of cats. Unfortunately, he had an 18-year-old kitty who was very friendly but had no control of his bowels and, on several occasions, would crap himself and anything near him. The smell was unreal.

On favorite series, creators, and why they inspire…
Right now, I'm really into Dear White People on Netflix - so smart and funny. I have great admiration for the way they successfully approach sensitive subjects like race and sexuality with humor to create understanding.

Ava DuVernay: I love how she's establishing herself as a force across mediums, creating features, television and documentaries…FIERCE! I want to be her.

Edgar Wright: His directing style is so meticulous and visceral at the same time. I want to learn all that he knows!
Viola Davis: I'd work with her in any capacity possible, as an actor/producer/director, either one of us sitting in any of those chairs. She's a fantastic role model for craft with the heart of a loving lioness.
On what's next: a 180 from comedy…
I just recently finished a pilot I'm pitching around based on the real life experiences of a white elementary school principal in the predominantly black and Latino neighborhood of Bed-Stuy, Brooklyn. It's a 180 from the comedies I usually write. New York City is the most segregated school system in America, and that segregation is largely systematic. The script is a dark, raw exploration of the public education system as it is and how it (perhaps) inadvertently promotes economic and racial segregation. But there's also a lot of light in it. It's a bit of a love letter to all the educators and administrators I know who are fighting the good fight to try to even the playing field.