In partnership with PARALLEL ENTERTAIMENT and ELYSIUM BANDINI, SeriesFest continues to support and foster fresh new talent with our annual screenplay competition, Storytellers Initiative.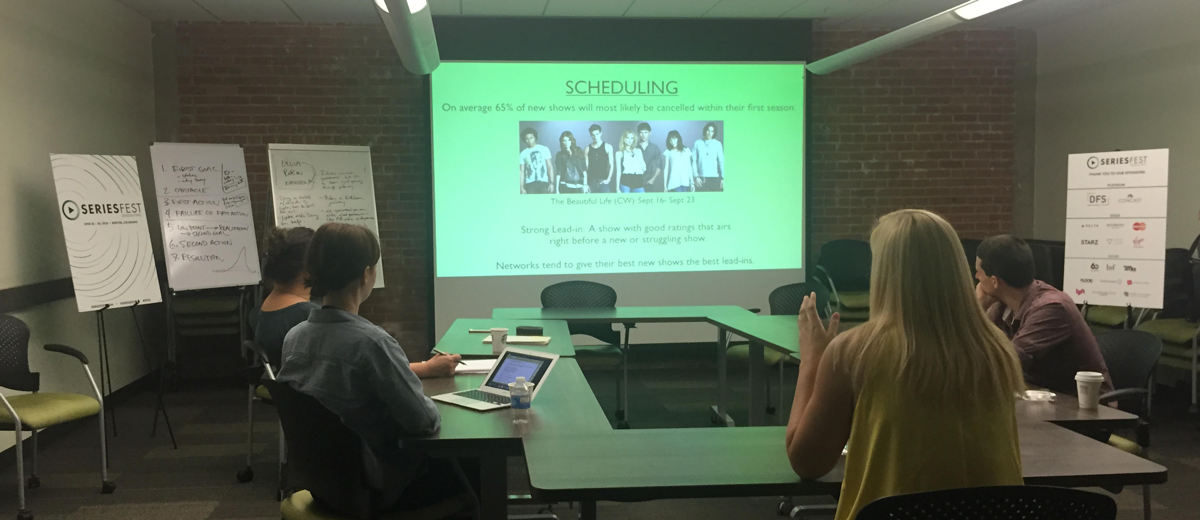 This annual artist initiative showcases some of the brightest and most innovative voices in comedy. Since it began in 2015, hundreds of submissions have been received from around the country and we are pleased to announce the top three finalists of 2017.
Hosers by Jacob Isser
"When a scandal sends Flynn Parker back to his hometown of Pepper Mill, Iowa for community service, he reluctantly takes over as chief of the local fire department – a thoroughly dedicated but utterly incompetent group of volunteers."

Orphans by Christine McKeever & Robert Keary
"When Carol's father and Benny's mother are diagnosed with late-stage cancer, the two estranged friends have to put aside their differences to create an ad hoc family. Also their parents f**k."

You From the Future by Jack Robichaud
"A down on his luck 60 year-old man breaks into a lab and uses a time machine to travel back to his 30 year-old self and ends up getting stuck there and living with him."
The three finalists will be flown to Los Angeles on May 31 for an extensive workshop with the top names in the entertainment industry. The workshop will consist of in-depth labs, panels, networking events, and continued mentoring opportunities. The winning script will receive a development deal, their pilot episode will be produced and distributed on Elysium Bandini's exclusive streaming platform, and premiere at this year's festival.
* * * * * * * * * * * * * * * * * * * * *
ABOUT THE FINALISTS
Jacob Isser (Hosers)
Growing up in Ashland, Oregon, Jacob got his start in the entertainment business as a young actor with the world-renowned Oregon Shakespeare Festival. A graduate of Yale University with a B.A. in Cognitive Psychology, he has sold, optioned, and written projects on assignment, including original feature Danny Graves' Man Cave, sold to Joe Roth and Sony Pictures, The Expendable One, adapted for Intrepid Pictures from the award-winning graphic novel by Jason M. Burns, and How the French Do It, a short story for Nikki Finke's HollywoodDementia.com. He has also worked in the music world, writing and conceptualizing music video treatments for directors and artists such as Wayne Isham, Sheryl Crow, Joss Stone and Shakira. Currently residing in Los Angeles, his work has been featured with the ATX Television Festival, Fast Company's Innovation Fest, and he was named to the 2015 Young & Hungry List.

Robert Keary (Orphans)
While born to a Thai mother and Irish father, Bob (who identifies as Thairish – take that, Rachel Dolezal!), was actually raised by "Roseanne" and MTV before being adopted by early-aughts HBO. A lifelong lover of television, he has always seen his future and career there, which is why he went to Boston University to get a MFA in Screenwriting, where he met the Darlene to his David in Christine McKeever. He currently lives in Provincetown, MA, where he has been researching a pilot about life in a seasonal gay resort town for about 12 summers.

Christine McKeever (Orphans)
For the better part of the last 10 years, Christine has worked in development for film and TV. She is currently a script editor for Scope Media Ltd, working closely with episodic writers in the US and abroad. Previously, Christine was a Creative Executive at Cine Mosaic in NY, working on HBO projects and films directed by Mira Nair. She's currently based in LA. She has 8 bagels in her freezer from her last visit to NY. You can't have one. Christine holds a BSSP in Radio, TV, Film from Northwestern University and a MFA in Screenwriting from Boston University. She met Bob at BU, making the crushing student loan debt totally worth it!

Jack Robichaud (You from the Future)
Jack Robichaud is a Los Angeles based stand-up comedian and writer. He was a New Face at the Just For Laughs Festival in Montreal and the winner of the Westside Stand-Up Showdown in 2012. He's also a member of the sketch group "Dead Kevin"; which was named one of LA Weekly's Top 10 Comedy Acts to Watch in 2013, and a featured web series on Comedy Central's digital platform. You can see him perform all over Los Angeles.