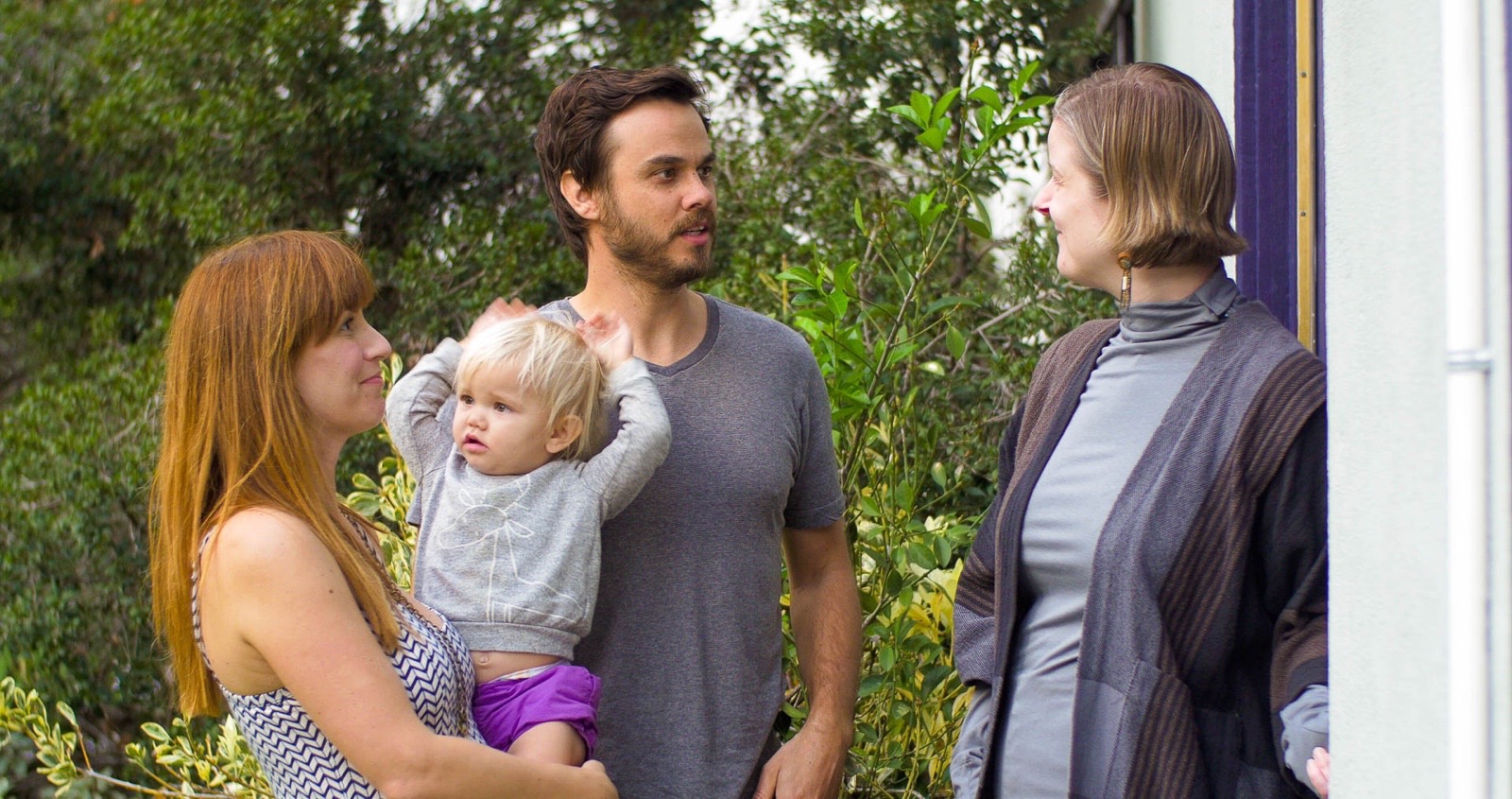 Having not spoken to each other since their mother's death nine years earlier, brothers Ernie and Lou have both run out of resources in life. Coincidentally and simultaneously, they find it necessary to call on their last remaining life-line: the family house they inherited with their sister, Lyn.

For the past ten years Lyn has lived in the house, maintaining the property and running her small psychology practice, enjoying low overhead and the privacy of her reclusive lifestyle.

With too much pride to admit defeat and move back into the house, Ernie camps out in the bushes in a tent on the front lawn, hiding from a loan shark he met as a fishing guide on the LA River. Lou chooses to stay in his camper van in the driveway with his wife Margee and their 2 year-old daughter, while attempting to build a tiny house in the front yard. In his spare time, Lou broadcasts an environmental video blog from the van called "Happy Vegan," and Margee sells vegan baby food at a farmer's market.

The three siblings are forced to respect boundaries and swallow their rivalries in order to survive on the small piece of property, becoming something they hadn't even known they were missing...a family.
Responses by Tiny House writer/creator Owen Williams:
On the creative evolution from living in a van to a tiny house…
Years ago, [co-director Merry Grissom and I] collaborated on a comedy web-series I wrote called Van Man about a wacky couple who think the apocalypse is coming so they move into a van to prepare for survival. It got us in a couple doors, but ultimately was too zany, and people had a hard time connecting to the over-the-top broadness of the show. I'm kind of in love with the themes of van living because of the microscopic insights that happen when people are forced to live in such a confined space, so I kept the foundation of the web series and fleshed the characters and themes out to be more grounded and believable - trying to keep the humor and the awkwardness of the original concept. So Tiny House is kind of the evolution of Van Man.

On how television series are the new movies…
I think with all the streaming services and online platforms, people are more able and willing to consume content like a film, bingeing on a show that might be eight to 12 episodes in one sitting. This opens possibilities because you don't have to conform to traditional network formats when conceptualizing and writing a series. You can really explore the characters and the themes in an organic way, allowing the story to unfold over the course of several episodes. As an indie filmmaker, this type of storytelling is really exciting, knowing that there is a greater chance of having it out in the world because of the high demand for content with all the online platforms available, but also because you really do get an opportunity to make a movie. Tiny House is written to be a mini-movie every episode, with the episodes weaving together to make a season-long filmic story-arc.

The key to finding actors: take an acting class…
Most of the actors in Tiny House we met in John Kirby's acting class in Los Angeles years ago. John has always played a significant role in our lives as actors and artists, and the people we met in his class are our foundation for creative collaboration and friendship here in Los Angeles. Advice we always have for people new to LA pursuing the arts is to find your tribe. It's so important to find people you like, with whom you collaborate well, and who share an inspiration for wanting to do good work. The four of us who produced Tiny House - myself, Sherry Romito, Ryan Anglin, and Merry Grissom, are all Kirby alums, and we always go back to the Kirby well when we need to find people to fill roles in our projects.
…and coming up next:
We are currently shooting another comedy pilot called Wild Natives. It's an experimental shoot done entirely on the iPhone 7. We feel strongly that with the access to technology these days, there are no excuses. If you are a storyteller, you tell stories. Wild Natives deals with two misfit native Angelenos and their struggles to stay afloat in a city which is getting harder and harder to keep your head above water. Spoiler alert: one of the characters lives in a van. You can keep your eye out for any updates about the show or other work we do on our website at: Nowadays Pictures
----------------------------------------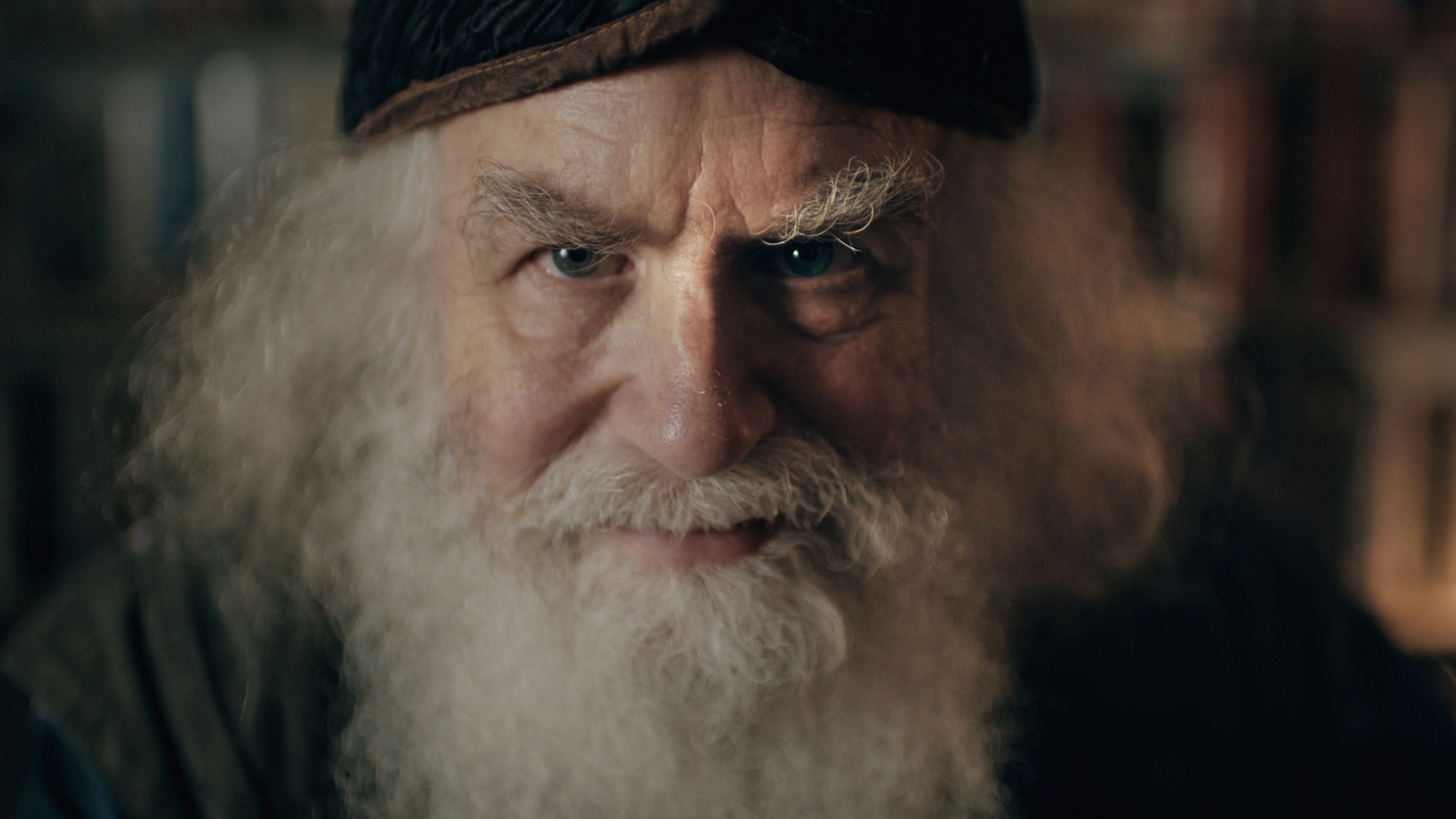 PPL is a documentary series exploring the lives and stories of people in America who may otherwise go completely unnoticed. Inspired by short character-based nonfiction such as This American Life, Humans of New York, and ESPN's 30 for 30, the series features a rich tapestry of real-life characters ranging in age, gender, orientation, race, ethnicity, income, profession, and location.

The pilot follows Oberon Zell-Ravenheart, known simply as "Oz", who is a self-described wizard who created a life for himself that is truly stranger than fiction. His tale conjures stories of unicorns, mermaids, a serial killer and the most cryptic magic of all: love.

Equal parts touching, laugh-out-loud funny, and gripping, PPL unveils what it means to be human in the 21st century.
Responses by PPL Director/Producer Danny Yourd:

On his passion for short-form non-fiction…
I've been involved in the documentary community for a while now both in feature length films and short films. With feature length documentaries, there is a traditional route in which to take a documentary once it's finished with a growing array of outlets and opportunities available for the film. However, something was always missing with short form content. Having directed a handful of shorts, the end goal has always been to post to Vimeo and hope for a Staff Pick which puts the film in a very healthy spotlight. There aren't many outlets available that harness and champion short form non-fiction filmmaking. Commonly, filmmakers will resort to releasing their work for free online resulting in hundreds of thousands of unique views. I want to capture and grow this audience while harnessing these stories and talents, developing exclusive content for PPL.

More and more, distributors have had a substantial impact on non-fiction filmmaking, giving people tremendous access to feature films that they might not otherwise see. We believe the same should be true for non-fiction shorts. Thousands are made each year, some winning Oscars, but only a small fraction of potential audiences will ever get to see these films.

On the birth of a cinematic docu-series…
I wanted to create a documentary series that opened up new opportunities for filmmakers to not only have their film seen by a wider audience, but would also allow the distributor and team the opportunity to develop films from scratch and/or acquire films from festivals.

So the idea of PPL was birthed from the desire to create a curated character-driven documentary series. Each 30-minute episode will contain one or two character-driven documentary pieces, depending on the length, falling within a similar theme. The result would be a cinematic docu-series – equal parts touching, laugh-out-loud funny, and gripping – unveiling what it means to be human in the 21st century. PPL offers digestible episodes, equally fun, light, and impactful, that you'll want to binge watch.
On the unpredictability of true stories…
With documentary storytelling, there is always a gamble in telling a real-life story. Things can be unpredictable and change throughout production, and you adapt. The risk can be greatly minimized with proper research, planning and pre-production. Someone once said, in regards to documentary filmmaking, that if you end up with the same film you envisioned when you started, you missed something along the way - and I totally agree with this.

Often documentaries take time because we're not following a script or storyboard, so we have to allow for the appropriate time to film and put together the films. That is part of the reason I would love to see this as a curated series with multiple filmmakers working on the films. Each filmmaker has a unique style, so we'd have to create a brand/look that directors can subtly follow, while still allowing each of them to put their individual stamp of creativity on the piece.

In praise of Glass and Spurlock, Yourd's non-fiction heroes…
Ira Glass and This American Life have had a huge impact on my journey. I absolutely love the way they set up that series, and there are nods and hints to that in the development of PPL. Morgan Spurlock is just a machine in the content creation world. He's a non-stop idea generator and knows his audience. Both of these guys love what they do - it's transparent. And that is incredible important to me. I want to gather like minds and create a series that not only audiences love, but also the content creators.
-------------------------------------------
Public Housing Unit, based on the true stories of the officers and citizens involved, is set in the projects of Chicago in the late 1980s. Equal parts gritty and entertaining, the series takes the audience into an unpredictable world that explores the grey areas of right and wrong.

Chicago police officers Jimmy Martin, Charlie Toussis, and Eric Davis find themselves the enemies of both lawbreakers and lawmakers as they attempt to protect the citizens of Chicago's public housing projects. Each of them will have their morals pushed to the brink as they fight tirelessly to serve a fragmented community, broken by an unjust system.

The focus of Public Housing Unit is on a real-world representation of these stories. This isn't a show about huge drug busts, faceless "bad guys," and conventional police drama, but rather an honest, character-driven series about day-to-day policing in a hostile environment, and the impact that job has on the community.
Responses by Public Housing Unit creators Angie Gaffney, Patrick Wimp, and Ted Reilly:

On developing a series through interviews, and the power of authenticity…
In creating Public Housing Unit, we had a really incredible development process. We spent about a year and a half interviewing the real-life cops on which our pilot is based (Charlie Toussas, Jimmy Martin, and Eric Davis). During that process, we were also interviewing Chicago citizens, other police officers, and individuals who grew up during that time period. We had an intensive development workshop where we fine-tuned the script and the dialogue with some great local actors.
For us, this is a story that has to be told, and has to be told well. It's an important part of our current national climate. We feel that, through our approach and our prioritization of authenticity, we can shed light on a very relevant social conversation that humanizes everyone involved, and engages our audience.
On finding the perfect local cast…
Angie Gaffney: Most of our cast was local to Chicago or had Chicago ties. It was really important to us to get really strong, well-rounded actors that had an investment in the story we were telling. Many of our actors came from the development workshop that we did, and we also worked with local casting director Sarah Clark to round out the cast. It was a great, unique casting process that I'd recommend for all independent projects.
HBO, AMC, Netflix, and the importance of character…
Patrick Wimp: I'm a huge fan of a lot of HBO series and other long form stories like those done on AMC. Mad Men is one of my all time favorite TV series. I love that it is entirely character driven and builds drama around the stakes related to those specific characters. It plays within a world that is more or less mundane, but we find immense amounts of joy, sadness, and conflict because we are invested in the people who inhabit that world. It is also a show that isn't afraid to experiment.

I also love The Sopranos, Game of Thrones, The Wire, The Leftovers, and a lot of the Netflix originals as well. I love these longer cinematic stories that are designed with a specific beginning, middle, and end. They appeal to me as a creator because it means you are creating for the sake of story and character, as opposed to going back to the well until the audience tells you to stop.

Some of Wimp's dream collaborators…
Patrick Wimp: I could list actors [I'd like to work with] for days. When a compelling actor brings your character to life, the whole thing really transcends what you intended at the start. Idris Elba is probably at the top of that list. His on-screen presence is immense, and I will pretty much watch him do anything. Brie Larson is amazing, Issa Rae is killing everything right now, Rosario Dawson, too...it's a long and varied list.

I am huge into music, and I grew up through the rise of hip-hop, so I've dreamed for a long time of having someone like the RZA, Common, or Kanye West bring their cinematic musical sensibilities to a film or TV series.

On the current trends of the new golden age of television…
Ted Reilly: The first trend is towards snack-able segments of longer stories. The well-documented surge in episodic storytelling has led many to call today the "Golden Age of Television," and I think people want to dive into characters and see longer arcs. That said, the next phase is to consume those long stories in shorter segments. Sure, I might binge 2-3 hours in one night. But I also might want to catch a 12-minute episode while waiting for a train.

The second trend is the "long tail" effect. I believe there will be a greater variety of niche content, and producers who serve a small niche well will continue to outshine those who try to squeeze too many demographics into the center of the bell curve. Consumers are starved for authenticity and unique voices, and are increasingly disinterested in seeing the same stories played by the same actors over and over. This is great news for authentic and independent content creators, who have unprecedented ability to tell their stories well and share them with broad audiences in the digital economy.