As part of our ongoing commitment to support and inspire the work of female directors and creators, we are proud to announce the expansion of our "Featuring Women" platform through a new mentorship initiative with Shondaland, the prolific storytelling company founded by Shonda Rhimes. Through this partnership, we have launched our first-ever Women Directing Mentorship initiative, anchored with the unique opportunity to shadow a director for an episode of a Shondaland production. Submissions are now open on and close on March 4, 2019. The winner will be announced in June 2019 at SeriesFest: Season 5.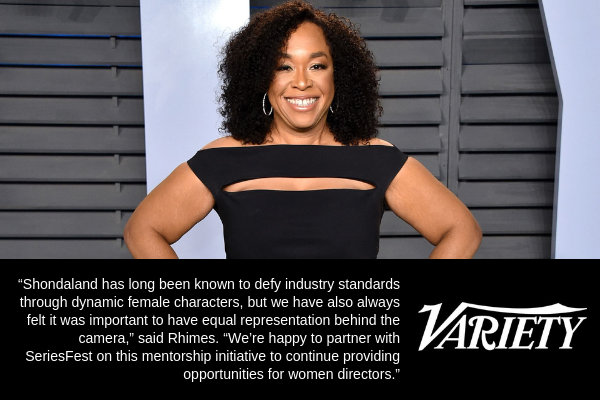 SeriesFest founders Randi Kleiner and Kaily Smith Westbrook said: "At SeriesFest, our mission is to support all artists working on serial content. Knowing that there are far too few working women behind the camera today, we felt empowered to focus our efforts on an initiative that could help support emerging female directors. We are thrilled to launch our Women Directing Mentorship as the next step in the evolution of our Featuring Women platform and can't think of a better partner for this inaugural year than Shondaland. Shonda Rhimes changed the television landscape and continues to be a leading force as she and her company redefine representation on both sides of the camera and we are honored to be creating this incredible opportunity with them."
In conjunction with the annual SeriesFest festival, we have developed multiple platforms to support creators. Other new initiatives in 2018 include the Jan Marino Scholarship, developed to support women over age 55 enrolled in the Stephens College M.F.A. in Television and Screenwriting program, and the Forward Impact Project, designed in partnership with the Independent Filmmaker Project (IFP) to help finance, produce, release, scale and build an audience for 12 select independent series deemed ready for development and production. For more information about these and other SeriesFest year-round platforms and initiatives visit: http://seriesfest.com/initiatives.
Shondaland is the pioneering storytelling company founded by Shonda Rhimes. Shondaland, under the leadership of Rhimes and producing partner Betsy Beers, is behind award-winning series Grey's Anatomy, Scandal, How to Get Away with Murder, For The People and Station 19. Shondaland made the unprecedented move to Netflix where the company will produce content exclusively for the internet entertainment service. Shondaland.com operates as a part of the Hearst Digital Media Network and is an inclusive destination which features in-depth interviews, emotional and relatable essays, and smart unexpected culture coverage.
Learn more and submit: http://seriesfest.com/artist-initiatives/women-directing-mentorship